52nd Annual Holly Day Fair
Nov. 1 - Nov. 4
Crown Expo
Nov. 1 - 12:00 pmNov. 2 - 9:00 amNov. 3 - 9:00 amNov. 4 - 11:00 am
$10 - $15, $30 Sip&Shop;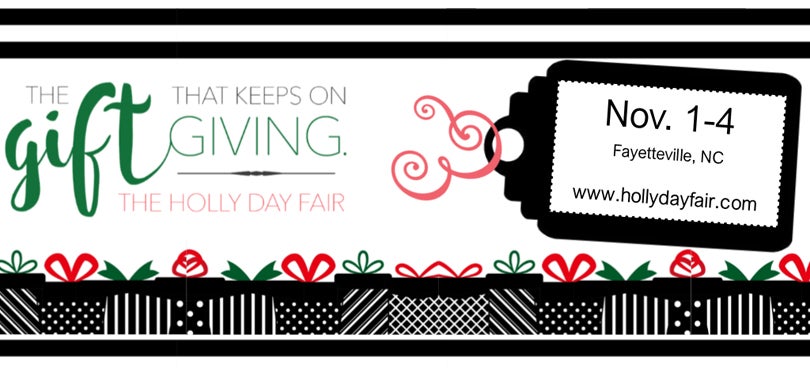 The 52nd Anniversary Holly Day Fair, the largest holiday gift and craft show in Eastern North Carolina, will be held Nov. 1-4 at the Crown Expo in Fayetteville. Hosted by the Junior League of Fayetteville the Holly Day Fair is a one-stop holiday shopping event that draws an average of 22,000 attendees and over 170 vendors. Show-goers have an extensive selection of unique handcrafted and manufactured products to select from including the best in holiday decorations, handmade crafts, stylish jewelry and clothes, children's toys, specialty food items and much more.
The Holly Day Fair serves as the Junior League of Fayetteville's sole fundraiser with all funds going directly back into the local community
Holly Day Fair hours are as follows:
Thursday, November 1
General Admission: 12:00 p.m. – 8:00 p.m.
Friday, November 2
General Admission: 9:00 a.m. to 8:00 p.m.
Saturday, November 3
General Admission: 9:00 a.m. to 8:00 p.m.
Sunday, November 4
General Admission: 11:00 a.m. - 5:00 p.m.
Read More
Sip & Shop

Sip & Shop guests will be treated to a continental breakfast with mimosas and will receive a special commemorative gift. The Sip & Shop tickets are limited. Tickets are $30 for Sip & Shop. Strollers and any type of rolling carts are strictly prohibited during Super Shopper hours.

Click here to purchare while supplies last!