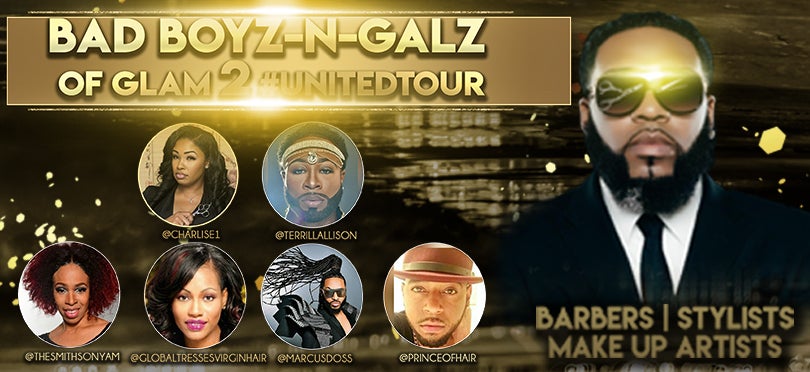 Come on, come out, come in and Come UP!!! Some of this area's talented stylists have teamed up with Celebrity Stylist, Terrance Davidson to bring you Fayetteville's very first Cut Party...Marcus Doss Style!!! Marcus has joined forces with Terrill Allison, Denise Granberry, Sonya Smith, Charlise Curtis and Teddy Mason to present to you this 2 day hair and networking event! Fayetteville, NC and surround has so much talent to offer this area and the nation! We want to unite and build up our beauty industry along with our fellow entreprenuers! Instead of having to travel to experience the Big Hair conventions...let's create the same on our own!

The Bad Boyz and Galz of Glam Tour featuring the EHO Cut Party is going to be an event you don't want to miss! On DAY ONE...The kick-off will begin Sunday 4.14.19 @ 6 pm with the Cut Party and After Party in full effect! You'll witness this area's baddest stylists on stage, CUTTIN UP...literally and figuratively!!! Mingle and network with some of the area's bosses while shopping some of the latest products and professional services. Afterwards, stay and party with Marcus' and Teddy to celebrate their birthdays!
DAY TWO...is going to be packed full of information, starting with a Panel discussion on topics relating to the concerns of stylists and professionals in the industry. We will talk about everything from acquiring the "ideal clients" to "branding your business" the right way! Afterwards, sit, listen, look and learn from some guest and local professionals as they share some tips and techniques that have proven to get them results!

To register, contact Sonya at 910.261.0016. Spaces are limited...first come, first serve.
Read More