Boosie & YFN Lucci
Oct. 20
Crown Coliseum
8:00 pm
$35, $55 & $75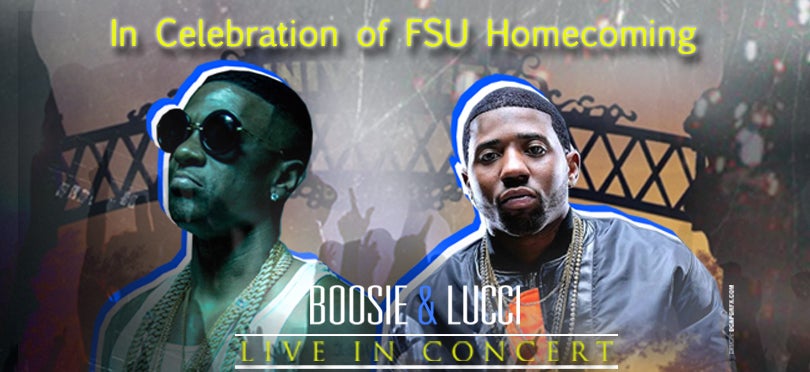 In celebration of FSU homecoming, Boosie alongside special guest YFN Lucci, will be performing live at the Crown Coliseum on Friday, October 20!
Boosie is a rapper from Baton Rouge, Louisiana who received his nickname Boosie by his family as he was raised in Southside Baton Rouge. Boosie, has released numerous studio albums while also contributing to a number of mixtapes and compilations. In 2001 he joined Trill Entertainment backed by its CEO the late Pimp C of UGK. Soon after, he released the album For My Thugz. This album featured his mentor Pimp C, Young Bleed, and longtime friend, Webbie. He paired up again with Webbie, to release their second compilation album, Gangsta Musik. At that time, Boosie began to catch the eye of some Universal Music Group representatives. In 2004 Lil Boosie and South Coast Coalition released Both Sides of the Track. In late January 2005, Boosie signed a deal with Warner Bros. Records. In early December 2006, the mixtape "Streetz Iz Mine" was released by Lil Boosie and DJ Drama (Gangsta Grillz), featuring a guest appearance by Webbie. Boosie is now preparing for the release of his seventh studio album and has his own all natural flavored vodka "Boosie Juice".
YFN Lucci, is an American rapper from Atlanta, Georgia. In 2014, he signed a record deal with Think It's A Game Entertainment and released his debut mixtape, Wish Me Well. In 2016, he released his second mixtape, Wish Me Well 2, which included the hit single "Key to the Streets". His debut extended play, Long Live Nut, was released in 2017 and peaked at number 27 on the Billboard 200 chart. The EP's first single "Every day" has peaked at number 33 on the Billboard Hot 100 and became his highest charting single so far.
Read More