Carolina's Best
WIDU Anniversary Celebration
Oct. 12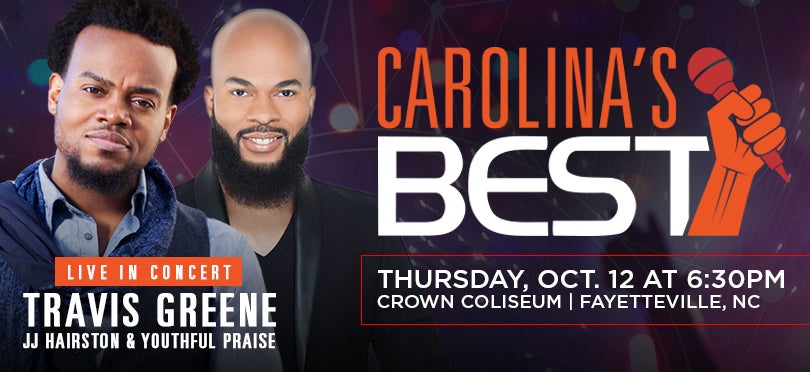 Thursday Oct. 12th it's Carolina's BEST talent competition. JJ Hairston will present an opening :30 minute concert beginning at 6:30pm. Then judges Kelly Price, Kim Burrell and JJ Hairston will give feedback to each contestant. Contestants win cash & the opportunity to open the WIDU Anniversary Celebration. Travis Greene brings this year's closing concert at Carolina's BEST.
Read More
GROUP TICKET INFORMATION

Groups of 10+ can save $3 per ticket by contacting Alan Singer at 910-438-4111 or [email protected]

Click Here for group flier

*Select seating only. Subject to availability. Group discount valid until September 30, 2017 at midnight

3-Show Bundle

A limited number of three show bundles are available while supplies last:

VIP: $219

Front Floor Seats: $50

Back Floor Seats: $40

General Admission: $30

Bundles include one (1) ticket to Carolina's Best, Traditional Gospel Night and the WIDU Anniversary Celebration.