Dustin Lynch: The Ride or Die Tour
Nov. 3
Crown Coliseum
7:00 pm
$45.75, $35.75, $25.75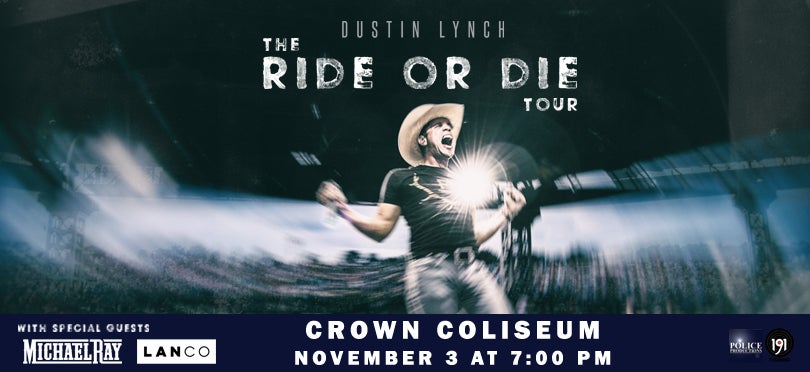 Dustin Lynch occupies a unique place in today's country music. Thanks to his classic sensibilities, he's been heralded as the heir to George Strait's throne. Yet with one listen to his newest hit, "Where It's At," it's obvious the young Tennessean knows how to combine his traditional influences with an edgy intensity that places him at the vanguard of today's contemporary country scene.
It's that ability to fuse his country roots with a progressive musical vision that makes Lynch one of today's most successful young artists. His self-titled Broken Bow Records debut hit No. 1 on Billboard's Top Country Albums chart and the lead single, "Cowboys and Angels," exceeded platinum sales status while earning Lynch a legion of devoted fans. His follow up single, the sexy up tempo "She Cranks My Tractor," became a No. 1 video on GAC's Top 20 Country Countdown and the accolades continued to pour in, among them Rolling Stone heralding Lynch as "The New Hat in Town" in the magazine's 2013 Best of Rock issue. Lynch's career momentum continued as he opened for Keith Urban on his recent Light the Fuse Tour and earned critical praise from American Songwriter, Billboard, Country Weekly, Elle, The Los Angeles Times, People and USA Today, to name a few.
Dustin Lynch is living the dream he worked so hard to achieve and he's happy to walk the line between country music's past and it's future, a link between it's most honored traditions and it's edgier new direction. "I want to do everything I can possibly do to be the best I can be," Lynch says. "I never give myself a day off. If you have a list of things that I've accomplished, I probably couldn't tell you a tenth of them because it's always about what's happening next. Every time we take that stage is a nice little pat on the back, a nice little present. I love what I'm doing right now. Musically I've been blessed to be able to walk a line that is a bit more traditional, but I can sprinkle some newer influences on top of that. I wear a cowboy hat. It's who I am and weirdly enough, in country music cowboy hats are few and far between right now. I'm glad it's that way. The door is open for a young guy like me to come in and carry that torch. I'm happy to do so."
Read More
Soldier Salute

Please be a part of the effort to thank our military community in a very special way. As a Soldier Salute sponsor, your purchase of 100 tickets for $1,000.00 will be distributed FREE to SOLDIERS AND THEIR FAMILIES, allowing them to attend Dustin Lynch: The Ride or Die Tour featuring Michael Ray and LANCO at the Crown Coliseum on Friday, November 3 courtesy of our vital community partners! #SENDASOLDIER #SOLDIERSALUTE

To become a Soldier Salute sponsor, please contact:
Tim Hinton
910-438-4122
[email protected]

Soldier Salute Sponsors

#SENDASOLDIER #SOLDIERSALUTE

Special thanks to all of our sponsors for taking part in the Dustin Lynch Soldier Salute!

To send your own group of soldiers and their families to the show, please contact:
Tim Hinton
910-438-4122
[email protected]