Fayetteville ComicCon
Oct. 20 - Oct. 21
Crown Expo
Oct. 20 - 10:00 amOct. 21 - 10:00 am
Saturday Advanced: $15, Saturday Door: $20, Sunday $15, Weekend Advance: $25, Weekend Door $32, VIP: $69.95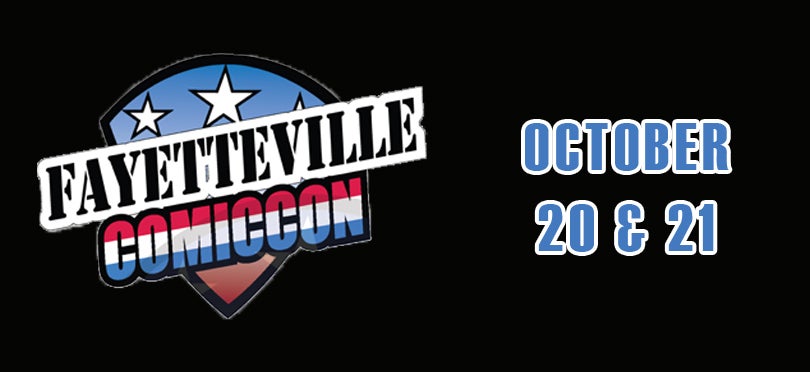 The fan run Fayetteville ComicCon is a welcoming and family friendly place that celebrates all forms and fans of American and World Popular Culture. If you like comics, cosplay, gaming, collectible toys, anime, you'll fit right in!
We advise coming early and also buying tickets in advance to avoid lines the day of the show and a possible sellout. Plus you'll get a discount for buying early!
Our con will feature special guests such as:
Butch Patrick -- One of our many iconic pop culture guests this year is Butch Patrick. Butch is famous for his role as Eddie Munster in the 1960s television show 'The Munsters."
Tom Savini -- A true Horror Superstar, Tom has had an amazing career as an actor, director, special effects maven and stuntman. He's worked on Dawn of the Dead, directed the Night of The Living Dead remake, and had a great role as Sex Machine in one of our favorite movies, From Dusk to Dawn. We are really excited to be hosting Tom in October!
Toochukwu Anyachonkeya -- TC is an up and coming actor and model who lives in Lumberton, NC. He is best known for a speaking role in Iron Man 3.
Dameon Clarke -- Canadian actor who has done work for films, television shows, anime and video games.
Veronica Taylor -- Veronica is a voice actress, best known for her work as Ash Ketchum in the hit series Pokemon.
Mark Dodson -- Voiced Salacious B. Crumb in Star Wars: Episode VI Return of the Jedi as well as several voices in Ewoks: The Battle for Endor and Star Wars Episode VII The Force Awakens. He is perhaps best known, though, as the voice of the eponymous creatures in Gremlins and Gremlins 2: The New Batch.
Jason Douglas -- One of Function's most popular voice actors, Jason voices Beerus the Destroyer in Dragon Ball Super, as well as Krieg the Psycho in Borderlands 2.
Coleen Clinkenbeard -- Luffy from One Piece, Goku and Gohan in Dragon Ball Z Kai, Riza Hawkeye in Fullmetal Alchemist -- just a few of the many roles she has voiced!
Andy Field -- Best known as the "friendly" voice of Hand Unit, the smooth-talking computer guide through Five Nights at Freddy's: Sister Location, and the tutorial voice in Freddy Fazbear's Pizzeria Simulator! He's also in the fast-paced sci-fi shooter Nelo and makes terrifying sounds for the zombie survival game Contagion.
Michael Copon -- Yes, Lucas Kendall, the Blue Power Ranger on Power Rangers Time Force is coming to Fayetteville! Michael also played Felix Taggart on One Tree Hill and Vin Keahi on Beyond the Break!
Kerrigan Mahan
Bob Wiacek -- One of the original "Crusty Bunkers," Bob's credits with Marvel Comics and simply incredible -- How 'Bout Star Wars, The Uncanny X-Men, and X-Factor, to name a few? He's even worked on DC's Superman title. We are very honored that Bob is doing our con.
Andy Smith -- Andy has been a professional artist for more than two decades, on titles such as The Silver Surfer, X-Men, Batman and many more. More recently, Andy has been pencilling the best-selling DC series Earth 2, and inking the Thanos vs. Hulk mini-series.
Brian Shearer
Kirk Lindo -- Best known for the popular Vampress Luxura series, Kirk has published dozens of comics throughout an illustrious career and will be presenting a very special panel at this year's con.
Kelly Yates -- Kelly's art has graced numerous Doctor Who comic books as well as other projects. Let's welcome Kelly back to the FCC!
Richard Case
Steve Geiger -- Steve was Marvel's Art Editor for much of the 1990s, and drew many Hulk and Web of Spiderman covers, not to mention a lot of interior art. Be sure to say to this well-known artist.
Louis Small Jr. -- Vampirella artist. Now We're Talking!
Dan Johnson -- Writer, editor, Back Issue contributor, comic book historian and writer of the Dennis the Menace comic strip, Wow!
Rodney Bennett -- Artist on Legend of the Black Starr and many other indie books, Rodney is a fan favorite for commissioned work.
Alterna Comics is bringing at least two artists to our con -- Brian Funk and Jeremy Massie are confirmed for now. Check out their incredible line of $1.50 comics published on newsprint -- bringing back the good ol day of comic books.
Phillip Kennedy Johnson
Budd Root
Tugg the Wonder Dog -- A regular at Fayetteville Comic Con will be making his last appearance on the East Coast. This is an opportunity you don't want to miss.
Jason Douglas
Kent Wagner -- Has appeared on TWD as a walker, The Vampire Diaries, Stranger Things and as the Sneeper Ravager in Guardians of the Galaxy Two.
Gregory French -- One of only two actors to have played the Gas Mask Zombie!
Rocky Melvin
Chris Kennedy
and many more!
Read More
GROUP TICKET INFORMATION

RELATED LINKS

Military Discount

Military members can receive a $2 ticket discount on advance sales only with the presentation of a valid ID at the box office.

VIP TIcket Information

VIP tickets include both days of the Con (via one ticket, please keep your ticket for both days!), a VIP lanyard, special expedited entry line from the lobby, and a VIP goody bag. Quantities are very limited! Children 10 and under are admitted free with a paying adult

Comiccon Weekend Pass & Marksmen Hockey

This bundle not only saves you money but also grants you access to a weekend of fun! Start off with a Marksmen Hockey game on 10/19 at 7:00 p.m. and then enjoy a 2 day Comiccon pass, opening at 10 a.m. on 10/20 and 10/21. Pick up your tickets at the main box office when you arrive to the hockey game and enjoy! Comiccon is a general admission event and your seats for the hockey game will be placed, best available, in either end zone.

Click here to purchase.