Fayetteville Taco Festival
Sep. 21
Crown Complex
12:00 pm
GA: $15 & Primo Plus VIP Parking: $65
Children 12 and under are free.
GA tickets do not include tokens for this event. Tokens will need to be purchased at the event in exchange for food.
Primo Plus VIP Parking Limited
Ticket prices subject to change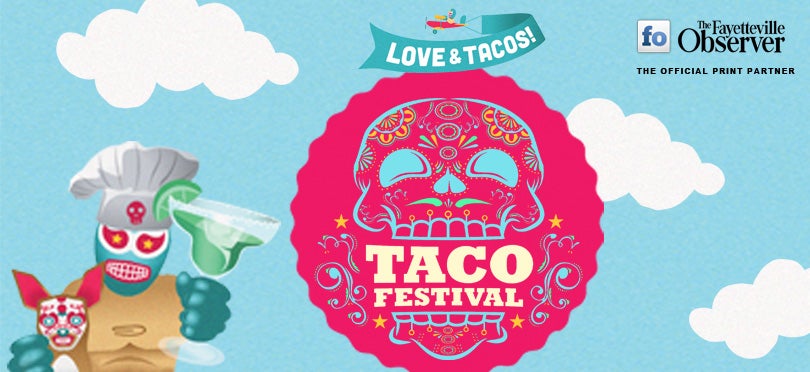 Festival Schedule
11:00am Doors open for Primo ticket holders
11:00am - 11:45am DJ Gunner Jackson
11:45am - 1:00pm Rivermist Band
2:00pm Doors open for General Admission ticket holders
12:30pm Luche Libre Match
1:00pm - 1:15pm Tiny Taco Dog Beauty Pageant Presented by the Fayetteville Observer
1:15pm Luche Libre Match
1:15pm - 1:45pm DJ Gunner Jackson
2:00pm Luche Libre Match
1:45pm - 3:00pm Rivermist Band
3:00pm - 3: 15pm Hot Chili Pepper Eating Contest
3:15pm - 3:17pm Best Taco Winner Announced
3:17pm - 4:00pm DJ Gunner Jackson
3:30 pm Luche Libre Match
Follow us @faytacofest
The Fayetteville Taco Festival celebrates a universal love of tacos and taco culture wrapped in a lively festival that refuses to take itself seriously. The event delivers a casual and delicious opportunity to taste a variety of traditional tacos and maybe a few uncommon ones, too. Fans can vote for their favorite taco, meet some of the area's leading taco makers and mark the occasion by enjoying the Tiny Taco Dog Beauty Pageant, the Chili Pepper Eating Contest and more. One thing is certain: fans are united in their love of tacos. Enjoy The TACO FESTIVAL!
Tiny Taco Dog Beauty Pageant: presented by The Fayetteville Observer. Watch sassy pups strut their four-legged stuff across the Main Stage. Competition slots limited. NOTE: dogs must weigh less than 25 lbs.
Lucha Libre Wrestling. Enjoy Lucha Libre wrestling from comfortable seating around the ring.
Hot Chili Pepper Contest. Guests can test their taste buds at the hot chili-pepper eating contest. Last person standing wins a prize.
Taco Judging. Fans can vote for their choice of "Best Taco." Votes are tallied and the vendor with the most votes is awarded the coveted "Best Taco" trophy.
TACO FESTIVAL TICKETS. General admission tickets are $15 Primo tickets are $55 online in advance and include 10 tokens. !
TOKENS: $3 = 1 token & $20 = 7 tokens
Read More
Tiny Taco Dog Beauty Pageant: presented by The Fayetteville Observer

Click here to be a part of the Tiny Taco Dog pageant

Pepper Eating Contest

Click here to join the Pepper Eating Contest

BECOME A TACO VENDOR

The Fayetteville Taco Festival will be an exciting foodie event guaranteed to take our community by storm and we want you to be a part of it! Join us as a vendor and become an integral part of its success. We would love to have you in attendance.

Click here for your chance to become a vendor and a part of history during the first ever Fayetteville Taco Fest!