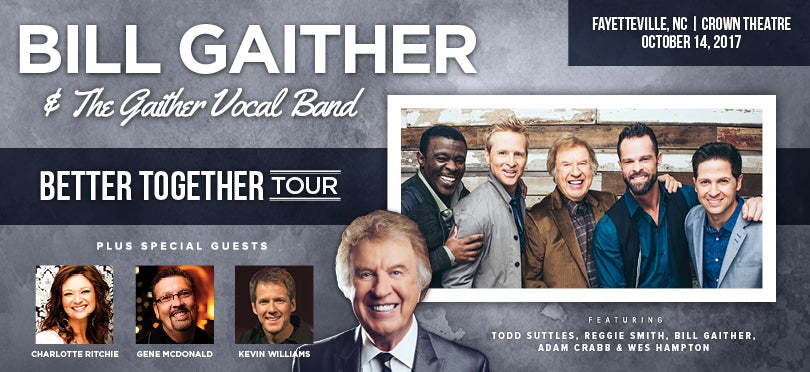 Since the early 1990s, the Gaither Vocal Band has served as a standard-bearer in the world of gospel music. Founded by legendary gospel songwriter and producer, Bill Gaither, this Grammy-winning vocal group has performed in the worlds most prestigious venues, including the Sydney Opera House, The Kennedy Center, and Carnegie Hall.

The list of men who have comprised the Gaither Vocal Band over the past 30 years reads like a "Who's Who" among the gospel music industry's best-loved voices, including Steve Green, Larnelle Harris, Mark Lowry, Michael English, David Phelps and many others.

A featured favorite in the Billboard chart-busting Gaither Homecoming Series, the Gaither Vocal Band continues to fill venues across North America with a steady tour schedule every year.

Today, the Gaither Vocal Band roster is comprised of five power-packed voices, including Bill Gaither, Wes Hampton, Adam Crabb, Todd Suttles and Reggie Smith. Individually, these men are gifted artists and men of authentic faith. Together, they are the known around the world for their stunning vocals, innovative harmonies and life-altering message… a message of grace, hope and redemption.
Read More
GROUP TICKET INFORMATION

Groups of 10+ can save $4 per ticket

PLUS

1 FREE ticket for every 10 purchased

Contact Alan Singer at 910-438-4111 or [email protected]

*Group Discounts end at 5:00 pm the weekday before any event.