Keith Sweat, Dru Hill & Doug-E-Fresh
Reminisce Tour
Dec. 2
Crown Arena
7:00 pm
$58 GA, $68 Floor, $78 VIP
Military save $10 per ticket w/ valid ID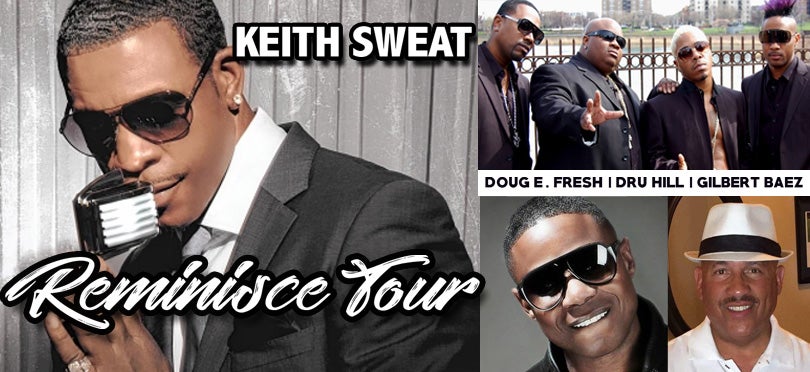 As a solo artist and singer-songwriter who has been a staple in the music industry for over 30 years, Keith Sweat has experienced a tremendous amount of success in the industry with the release of 15 albums that spawned a series of chart topping hits. According to Billboard, Keith Sweat albums made the Billboard 200 Albums of the Year Chart eight times in his career. His songs made the Billboard Hot 100 Songs of the Year Charts six times in his career. And in 1996, Keith Sweat came home with the coveted American Music Award for Favorite Male Artist – Soul/Rhythm & Blues. But singing is not his only forte. In addition to success as a singer-songwriter, Keith Sweat has also experienced tremendous success as a producer, producing several chart-topping songs of artists from the likes of: The Isley Brothers, Men at Large, Dru Hill, Ojays, Silk, Kut Klose, and LSG.
In 2007, Keith Sweat began broadcasting a syndicated radio show that currently plays in 21 markets in the U.S. and is called The Sweat Hotel. The show plays music from the 70s to current releases and is broadcast from his studio in Atlanta.
In addition to maintaining a successful music career, Keith Sweat has also dabbled in acting with several small roles in television and film dating back to 1991.
Joining Keith Sweat at the Crown Arena are Dru Hill and Doug E. Fresh.
Dru Hill stormed out of the historic Druid Hill Park complex in Baltimore Maryland. They began their rise to fame in the mid 1990s after a show stopping performance of the hit "Tell Me", sung for Island Records manager Hiriam Hicks. After being signed to a world-wide contract by Island Records, the group, Jazz, Nokio, Woody and Sisquo blazed a trail of successful performances and hits throughout the music industry. Their smoky jazz and R&B style of singing to the music world by storm and by the late 1990s, Dru Hill had truly established themselves, with six consecutive American R&B Number 1 singles followed by the equally commercially successful album, "Enter the Dru". The album debuted at US number 2 on the Billboard 200 album chart in November 1998. The album ranged from the hard-edged urban R&B of "How Deep is Your Love" (US number 3/UK numbe 9), to the schmaltzy Babyface single "These Are the Times" (US number 21/UK number 4). In 1999, the group appeared on Will Smith's US chart topping soundtrack "Wild Wild West", and set up their own Dru World Order production company.
Rounding out the talent line up is crowd favorite, New York raised, audience energizer and world renowned "The World's Greatest Entertainer", is Doug E. Fresh. Doug E. got his initial notoriety for being the original human beat-box, inventing a method to imitate a drum machine using breath control through the teeth, lips and gums. Throughout the 1980's Doug E. produced a string of world-wide hit singles starting with the classic and still club favorite, "The Show". Subsequent albums produced several more chart topping hits that continue to fill the dance floors and played on radio airwaves to this day. Doug E. continues to work successful projects within the music industry. He provides a guest appearance on the 2017 BBD smash hit album "Three Stripes", and is currently working on a new album of his own.

Tickets can be found at CapeFearTix.com. by phone at 888-257-6208 & in person at the Crown Complex Box Office or Leisure Travel Office located on Fort Bragg, N.C.
Read More