Kirk Franklin, Tye Tribbett & Tasha Cobbs-Leonard
WIDU Anniversary Celebration
Oct. 14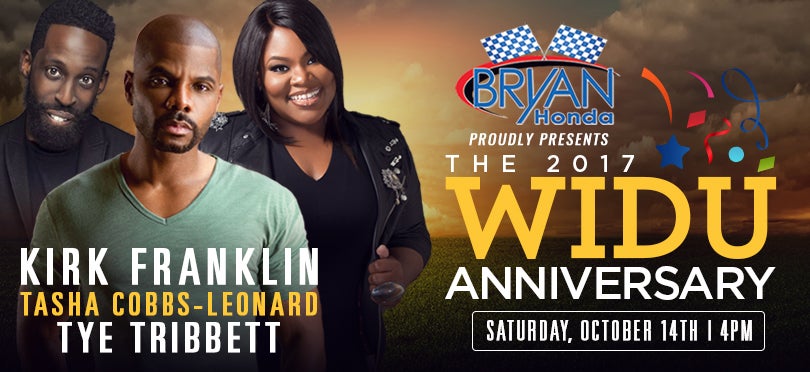 Kirk Franklin returns as he produces the 2017 WIDU Anniversary Celebration: Kirk Franklin, Tye Tribbett & Tasha Cobbs-Leonard. For more details: widuanniversary.com
For nearly two decades now, Kirk Franklin has been a multi-platinum-selling purveyor of majestic fusions of gospel and contemporary music, and a mirror of Christian humanity boldly reflecting what one faith walking man can accomplish when he focuses on God and taps deep into the gifts He gives. Franklin is a pioneer in gap-bridging musicianship, uniting audiences across gospel, hip hop, pop and R&B. His irresistible rhythms and rhapsodies have resulted in albums that consistently top both Billboard's Gospel and Christian charts, as well as ascend triumphantly into the Top 10 of the R&B/Hip Hop chart. His unprecedented penetration into the mainstream has fortified him to also become a New York Times bestseller author for The Blueprint: A Plan for Living Above Life's Storms (Gotham/Penguin). Franklin is also the host and executive producer of the gospel talent show "Sunday Best," the highest-rated gospel program in BET network history now heading into its fourth season. To date, the musical trendsetter has garnered nine GRAMMY® Awards; an American Music Award; 39 Stellar Awards (gospel); 16 Dove Awards (CCM); eight NAACP Image Awards; two BET Music Awards, a Soul Train Award and numerous others.
Read More
GROUP TICKET INFORMATION

Groups of 10+ can save $5 per ticket by contacting Alan Singer at 910-438-4111 or Alan_Singer@ComcastSpectacor.com

Click Here for group flier

*Select seating ony. Subject to availability. Group discount valid until September 30, 2017 at midnight

VIP Package

Includes:
- One Reserved Ticket in the first five rows
- VIP Lanyard
- Pre-show dinner reception including artist greeting

3-Show Bundle

A limited number of three show bundles are available while supplies last:

VIP: $219

Front Floor Seats: $50

Back Floor Seats: $40

General Admission: $30

Bundles include one (1) ticket to Carolina's Best, Traditional Gospel Night and the WIDU Anniversary Celebration.