Magic Men Live
Jul. 21
Crown Theatre
8:00 pm
$28, $53, $78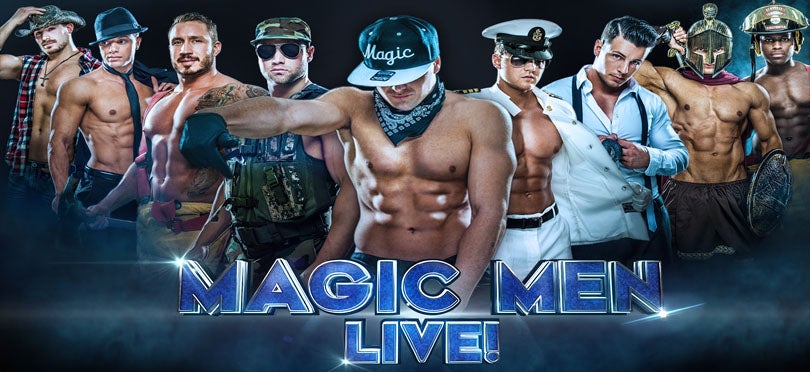 Treat yourself to the night out of your dreams! This high-energy and intensely exciting experience was designed with the desires of contemporary women in mind; bringing all of your favorite fantasies to life in a exciting and innovative way that will have you on the edge of your seat! Whether you're a fan of the movies, a little country charm or something a few shades darker (wink wink), you're sure to find everything you're looking for in a show and more! There's not a bad seat in the house with performances happening on stage and in the crowd!

"It was everything we dreamed of and MORE!" – HollywoodLife.com

In 2016, Magic Men Live traveled to over 100 different cities in the US and performed in front of over 150,000 people, breaking records and selling out venues from coast to coast! Featured in the New York Times for it's unique and refreshing approach to male entertainment, a rapidly growing following of over 1 million loyal fans and one of the highest star ratings in the industry, the Magic Men is taking things to a whole new level. Magic Men Live wants to give you and your girlfriends a night you'll never forget with a brand new, high energy, crowd interactive show that will leave you screaming for more! Get ready to let loose, dance, sing, scream and get HANDS ON!

"Our goal is to make sure everyone walks out with two things; memories and a smile." – Myles Hass – Host & Emcee of Magic Men Live

Magic Men Live features a talented and lovable cast of stunning guys sure to appeal to a variety of tastes. Dynamic productions of the hottest music and original compositions, thrilling choreographic displays and themed acts, Magic Men Live invites you to let loose in an empowering, fun-filled environment and embark on an unforgettable night out!
Read More
GROUP TICKET INFORMATION

DIVA SQUAD PACKAGE

Groups of 10+ can save $5 per ticket by contacting Alan Singer at 910-438-4111 or [email protected]

Click Here for group flier

*Select seating only. Additional fees may apply. Group discounts end at 5:00 pm the weekday before any event.