Make America Rock Again Tour
Sep. 8
Crown Theatre
7:30 pm
$85*, $60, $45, $35
*GA Pit - very limited quantity available.
Military discount - $5 off price level 2 - 4.
Groups of 10 or more can save $5 off price level 2 and 3.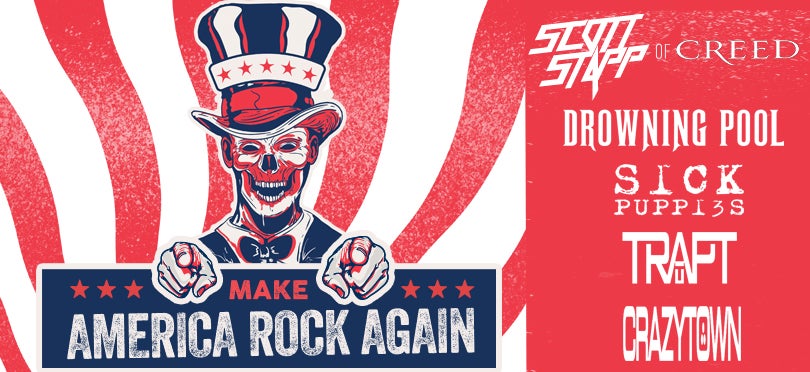 The Make America Rock Again Tour is bringing America's biggest and best hard-rocking party to The Crown Theatre on Friday, September 8! The tour will feature a stellar line-up consisting of Creed vocalist Scott Stapp in the headlining spot (performing Creed hits with his full band), alt-rock giants Sick Puppies, massive heavy rockers Drowning Pool, and modern rock royalty Trapt.
Scott Stapp's artistic and personal journey have encompassed all the talent and torment imaginable in scaling to musical success. The founding member of Creed chronicled his questions, his quest for answers, and his dreams from faith to fatherhood in chart topping hits, "My Own Prison", "Higher", "My Sacrifice", "One Last Breath" and "With Arms Wide Open", which dominated the sonic landscape of the 90s-2000s. His soul-piercing lyrics backed by thundering rock riffs garnered a Grammy Award, and countless other accolades of creativity and chart domination, not to mention legions of fans, who felt a kindred spirit in his honesty. Since his original departure from Creed, Stapp has released two solo albums (The Great Divide, 2005 and Proof of Life, 2013 [#1 on Christian charts]), a revealing memoir (Sinner's Creed, 2012), and a "rebirthed" Creed album, (Full Circle, 2009). In addition to his thriving solo career, Stapp is also the lead singer of the new supergroup Art of Anarchy, whose first album with Stapp, The Madness, was released earlier this year. www.scottstapp.com
Since bursting onto the rock scene, Sick Puppies have sold over one million records and reached a RIAA Gold album certification for their breakout second full-length, Tri-Polar, which yielded two million in single sales. This included the gold-certified "You're Going Down" as well as rock smashes "Maybe", "Riptide" and "Odd One". www.sickpuppies.com
Drowning Pool skyrocketed to fame with their debut album, Sinner, which was certified platinum just six weeks after its release. The band have more than fifteen years of success at commercial rock radio, driven by the hard rock anthems "Bodies", "Tear Away" and "Sinner", and hits including "37 Stitches", "Step Up", "Feel Like I Do" and "One Finger And A Fist", to name just a few. Drowning Pool continue to support their latest release, Hellelujah (2016, eOne), and are currently at work on their seventh studio album while continuing to perform worldwide. Known for their unwavering support of the military, the band will celebrate on July 4, 2017 by performing for the troops at Guantanamo Bay, and also have summer shows for the U.S. military in Honduras, Romania and Bulgaria. They participated in the inaugural MAKE AMERICA ROCK AGAIN tour in 2016, and are proud to have been asked to return for the 2017 run. www.drowningpool.com | www.facebook.com/drowningpool
RIAA certified platinum hard rock leaders Trapt originally burst onto the scene and radio airwaves in 2002 with their second self-titled album, spawning their career-defining hit "Headstrong", which hit the #1 spot on both the Billboard Modern Rock and Hot Mainstream Rock charts, as well as #16 on the Top 100 chart at the time of its release. Their following album, Someone In Control, hit the US Mainstream Rock charts in 2005, and was subsequently followed by three more full-length records – Only Through The Pain (2008), No Apologies (2010) and Reborn (2013). Trapt's latest album, DNA (2016), represents the rebirth of the band and their ability to transform with current trends – remaining fresh and at the forefront. www.trapt.com | www.facebook.com/trapt
Read More
GROUP TICKET INFORMATION

Groups of 10 or more can save up to $5 per ticket on select price levels by contacting Alan Singer at 910-438-4111 or [email protected]

Groups that purchase 10+ tickets will receive 1 complementary ticket to the Cumberland County Fair

Click Here for Groups Flier

*Group Discounts end at 5:00 PM the weekday before any event

Pre-show Dinner + Meet & Greet

Pre-show BBQ dinner + hang out with some of the band members before the show! To purchase yours, click HERE or Buy Tickets button on the page.

What's included:
- Pre-show dinner will run 5:30 pm - 7:30 pm
- Meet & Greet including Photo Opportunity with various artists & band members*
- Dinner menu includes Pork & Chicken BBQ, Specialty sauces, Cilantro toast, Tobacco Onions, Creamy coleslaw, homemade potato wedges
- Includes 1 drink ticket (beer/wine)

*Artists subject to availability and will differ in each city on Tour.