Ms. Lauryn Hill
The MLH Caravan: A Diaspora Calling! Concert Series
Apr. 26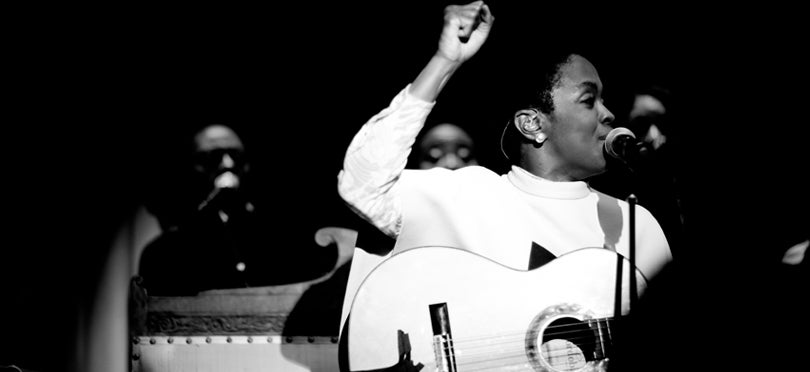 Opening for Ms. Lauryn Hill is Paul Beaubrun.
Ms. Lauryn Hill's prolific rhymes catapulted her into the public eye as the lone female member of The Fugees, whose record sales would make them the second biggest selling R&B act worldwide since Michael Jackson. She launched her solo career with the release of the commercially successful and critically acclaimed album The Miseducation of Lauryn Hill, which earned a record breaking five Grammy Awards.
Ms. Hill sang and deeply appreciated music at a young age. She spent her formative years acting in plays and being cast in television commercials, as well as the daytime drama 'As the World Turns', Steven Soderbergh's 'King of the Hill', and 'Sister Act II' with Whoopi Goldberg. She attended Columbia University in New York while a member of the then up and coming musical group The Fugees. She drew inspiration from some of the world's most renowned and soulfully successful musicians-from the offerings of Motown, Staxx, Atlantic, Capitol and Mercury Records, The Temptations, The Four Tops, The Supremes, Stevie Wonder, Nina Simone, Roberta Flack, Donny Hathaway, Smokey Robinson and The Miracles, Marvin Gaye, The Jackson Five, The Last Poets, Aretha Franklin, Jackie Wilson, Doug and Jean Carne, Procol Harem, Santana, Alice Coltrane, The Delfonics, The Stylistics, and a plethora of other world changing artists who were influencing music and recreating the world. This love affair with music seemingly outside of her generational trajectory would extend in many different ways from jazz, to soul, to reggae, to rock to classical.
An eclectic appreciation for music, Ms. Hill would establish her own categories that incorporated all types of unique and incredible sounds from both the past and the contemporaneous environment of her youth which included what was then known as hip-hop and R&B. She was an interesting and powerful hybrid of musical influences that would dramatically shape her own approach to self-expression.
A scion of Haitian musical royalty Paul has spent his life living to the beat. Son of the Grammy nominated band Boukman Eksperyans, his earliest memories are of rhythm and sound. Moving to New York as a youth he was inspired by his heritage to begin crafting a sound all his own. Constantly aware of his roots, the struggle of an immigrant and the drive of New York life, Paul began to create a path where music, activism and history meet.
A unique and transfixing sound he calls 'Roots/Blues', Paul weaves his impeccable guitar skills, rich vocals, musical ingenuity and cultural history together; all while performing a smooth melange of both English, French and Creole (the native tongue of his Haitian roots).
Read More
GROUP TICKET INFORMATION

Groups of 10 or more can save up to $5 per ticket by contacting Alan Singer at 910.438.4111 or [email protected]

Click Here to view event flier

*Group Discounts end at 5:00 PM the weekday before any event

Pre-show Dinner Buffet

AVAILABLE NOW: Pre-show Dinner Buffet in the Upper Deck restaurant & bar inside the Crown Coliseum from 6:00 - 8:00 pm before the show!

Menu includes the following from Grandson's Restaurant:
- BBQ
- Fried Chicken
- Slaw
- Potato Salad
- Baked Beans
- Hush Puppies
- Fresh brewed coffee, iced tea and water

*Includes 1 drink ticket (good for beer or wine)
*Does not include show ticket.

Purchase yours HERE or by clicking Buy Tickets on this page.