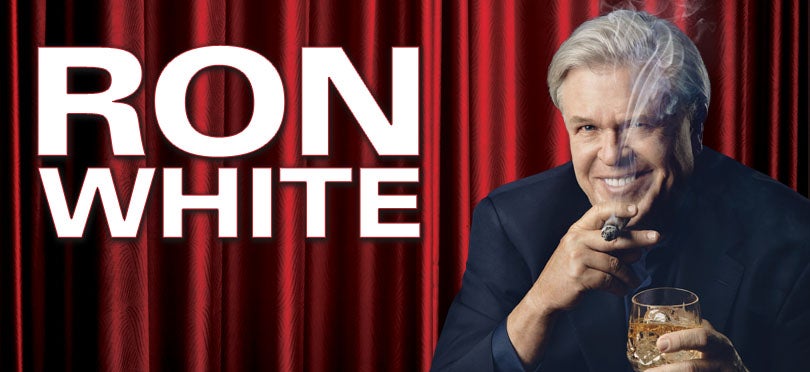 Comedian Ron "Tater Salad" White first rose to fame as the cigar-smoking, scotch-drinking funnyman from the Blue Collar Comedy Tour phenomenon, but now as a chart-topping Grammy-nominated comedian and a feature film actor, Ron White has established himself as a star in his own right. White has always been a classic storyteller. His stories relay tales from his real life, ranging from growing up in a small town in Texas to sharing stories of his daily life to becoming one of the most successful comedians in America.
Ron White began performing comedy in 1986 and was quickly opening for legendary comedians Sam Kinison and Jeff Foxworthy. After eventually becoming a comedy club headliner, in 2000 White was asked to join the Blue Collar Comedy Tour alongside Jeff Foxworthy, Bill Engvall and Larry the Cable Guy.
As an actor, Ron White had supporting roles acted in the major theatrical films Horrible Bosses and Sex and the City 2. He also had a principal role in Jayne Mansfield's Car (written/directed by Billy Bob Thornton), He is a co-Executive Producer of Bridegroom, a Linda Bloodworth–Thomason documentary, which debuted at the 2013 NYC Tribeca Film Festival and won the Audience Award.
Currently, Ron White can be seen on the small screen alongside Luke Wilson, Carla Gugino, and Imogen Poots, in music-industry veteran Cameron Crowe and renowned filmmaker JJ Abrams' new Showtime series, Roadies. White plays road-tested tour manager Phil, in a critically praised performance.
Read More
GROUP TICKET INFORMATION

Groups of 10 or more can save up to $5.00 per ticket on select price levels by contacting Alan Singer at 910-438-4111 or [email protected]

"200 Proof" VIP Experience

Package Includes:

- Premium Seat Ticket (typically in First 5 Rows)
- Q & A session with Ron White
- A photo with Ron White
- VIP access pass personally signed by Ron White
- Bonus DVD: Ron White's Comedy Salute to the Troops & autographed note
- Margo Rey CD (Ron White's wife and top Billboard charting singer/songwriter)
BUY NOW

*Check in early at the merchandise table with our VIP manager on tour.

"100 Proof" VIP Experience

Package Includes:

- Premium seat ticket
- Bonus DVD: Ron White's Comedy Salute to the Troops & autographed note
- Margo Rey CD (Ron White's wife and top Billboard charting singer/songwriter)
BUY NOW