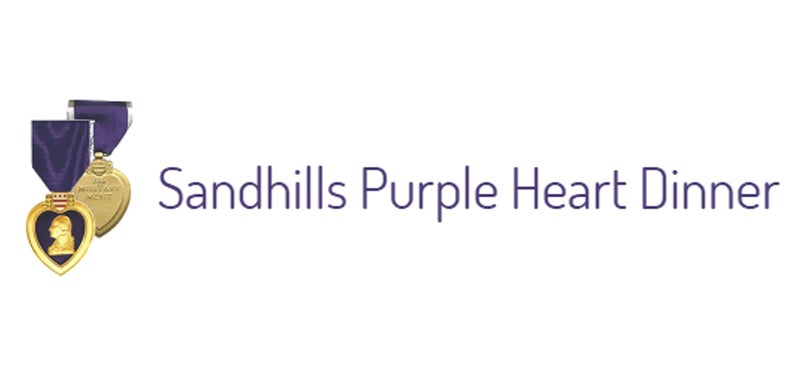 The Sandhills Purple Heart Dinner will honor Purple Heart recipients & their families, Gold Star Mothers, and the families of those Killed in Action on Saturday, August 18 at the Crown Expo Center, 5:00 – 8:00 pm. There will also be a special recognition of WWII Veterans. This event is open to the public.
This year's dinner is the second of its kind in Cumberland County. At last year's dinner, it was the first time that many of our veterans were publicly honored for their sacrifice and service. According to the Fort Bragg chapter of the military Order of the Purple Heart, there are at least 476 Purple Heart recipients living in and around the Fayetteville and Fort Bragg area. The goal of the Sandhills Purple Heart Committee is to honor as many Purple Heart recipients as possible while encouraging the public to attend and show their gratitude and support.
The Purple Heart medal is awarded to those who have been wounded or killed while serving with the US Military. Established by George Washington in 1782 as the Badge of Military Merit, the Purple Heart's order includes the phrase 'Let it be known that he who wears the military order of the Purple Heart has given of his blood in the defense of his homeland and shall forever be revered by his fellow countrymen.'
"This is a totally volunteer effort to honor those who have shed their blood for our Country," said Michael Johnson, Chairman of the Purple Heart Foundation of North Carolina. "The Sandhills Community is invited to share in this unique effort and show support for our military Heroes."
Seating for the Public: First Come, First Serve.
For more information on this event, visit sandhillsphdinner.com.
For more information on sponsorships, please contact Sarah Reid - [email protected]
Read More
Become a sponsor

Click here to learn more about becoming a sponsor!