STATEMENT REGARDING COVID-19
Aug. 21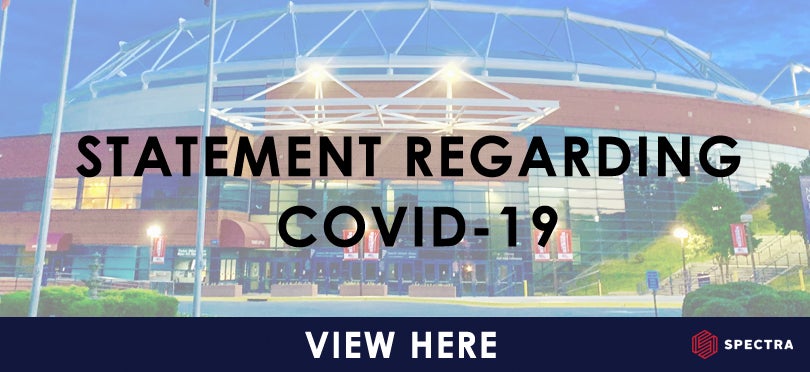 STATEMENT REGARDING COVID-19
UPDATE: July 24, 2020
The situation with COVID 19 continues to be very fluid, and we have been closely monitoring the information disseminating from Governor Cooper's office and the phased approach to re-opening the State of North Carolina.
Currently, the State of North Carolina is in Phase 2 of reopening under the current Executive Order, and will remain in Phase 2 through Friday, August 7, 2020. In accordance with NC Executive Order 141, as an entertainment venue, the Crown Complex is complying with Subsection 7.A. in prohibiting mass gatherings of no more than 10 people indoor or 25 people outdoor. This prohibition applies to all events, to include fairs and festivals that may take place in the Crown Complex parking lots.
Pertaining to drive-in style functions as described in Subsection 7.C. of NC Executive Order 141, the Crown Complex can hold outside drive-in style events in which all spectators stay in their vehicles and the number of employees and performers in the outdoor location being limited to 25.
Section 9 of NC Executive Order 141 allows entertainment and sports venues to hold events that are being broadcast and the mass gathering limit of 10 people indoor or 25 people outdoor applies to spectators only. The personnel required to conduct such an event (to include players, performers, employees, etc.) do not count towards the 10 and 25 persons limit. Section 9 also makes clear that the exemption on counting personnel only applies to the broadcast exception.
This plan has been prepared to potentially re-open the Crown Complex venues with social distancing requirements and adhering to the guidelines set forth when the State of North Carolina permits. As part of this process, we have been working carefully through our venue seating manifests to determine acceptable capacities should we re-open and hold an event under socially distanced capacity restrictions. Social distancing venue capacities are expected to fall to an estimated 20% of the total venue capacity capabilities if opening with social distance is permitted.
Phase 3 of the Governor's plan is scheduled to allow for increased capacities at entertainment venues, however, guidance on what "increased capacities" entails in this phase is not yet available. We are hopeful to reach this milestone around August 7, 2020. Reaching Phase 3 of the State of North Carolina reopening does not mean there will be a flood of returning event activity at that time. As the Crown Complex is comprised of many event spaces (Coliseum, Arena, Theatre, Expo, and Ballroom), our expectation is that when it is safe to resume activity, we will do so in a stepped manner in which smaller scale events return and gradually work up to larger scale mass gatherings while complying with applicable Executive Orders and local guidance.
While we do not expect concerts or family shows to occur at the Crown Complex throughout the fall months, we are remaining hopeful that the industry will be able to work together to adapt and achieve some level of event experience in the late Fall/Winter presuming that concerts, family shows, and other touring productions are prepared to return to the road in that time period.
Please refer to the CDC website for COVID-19 for additional information on symptoms and a self-check guide to help you make decisions and seek appropriate medical care if necessary.
The safety and well-being of our employees, business partners, performers, athletes, guests, and our community is our top priority at the Crown Complex. We will continue to follow the guidance of the CDC and the Cumberland County Department of Health. Your patience and understanding during this time is greatly appreciated.
For regular updates:
• North Carolina Department of Health and Human Services
• Center for Disease Control and Prevention (CDC)
• Cumberland County, NC Government
Social Media:
Read More