The All-American Tattoo Convention
Apr. 13 - Apr. 15
Crown Expo
Apr. 13 - 2:00 pmApr. 14 - 12:00 pmApr. 15 - 12:00 pm
Single Day: $25 | 3-Day Pass: $45 Advance | VIP 3-Day Pass (Shirt, Promo Package): $65 Advance / $75 at the Door
A $5 military discount is available at the Crown Box Office and the Leisure Travel and Ticket Office located on Fort Bragg with the presentation of a valid ID.
Kids 15 & Under do not need a ticket to attend.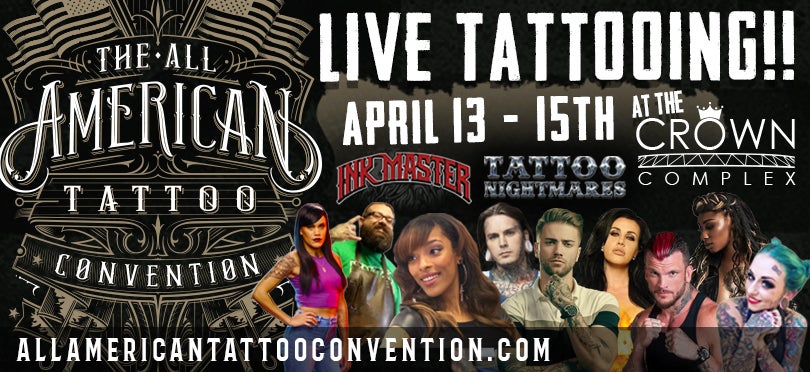 Fort Bragg is the largest military base in the free world, home to over 170,000 active and retired military personnel and their families and with up to 90% of infantry having at least one tattoo, Fort Bragg, NC is the perfect place to host a tattoo convention.
The goal is to give some of the best tattoo artists in the world the opportunity to showcase their talents to some of the nation's bravest heroes while also raising money for local charities that benefit our soldiers and their families. In 2017 we had some amazing artists and the same is true in 2018!
TATTOO ARTISTS AT THE ALL AMERICAN TATTOO CONVENTION
Spike TV's Tattoo Rescue- Joey Tattoo, Tattoo Nightmares - Jasmine Rodriguez
Veteran Tattoo Artist- Chop & Pam Chop Shop Tattoos Hope Mills NC
Ink Masters - Madison Loftis, Tyler Nolan, Fame, Jayvo Scott, Ashley Velasquez, Daniel Silva, Ryan Eternal & More!
Tattoo Super Stars - Kristel Orteo, Myke Chamber, Flaks, Josh Hagan, Sirrus Slay, Bobby & Heather Moss & Many More!
And many more side acts, the 2018 MIss All American Contest!
Single Day: $25 ($5 discount for military)
3-Day Pass: $45 ($5 discount for military)
VIP (3-Day Pass, Shirt, Promo Package): $65 Advance / $75 at the Door ($5 discount for military)
Read More
GROUP TICKET INFORMATION

Groups of 10+ can save $5 Per Ticket!

Contact Alan Singer at 910-438-4111 or [email protected]

*Advance purchase tickets only. subject to availability. additional fees may apply. group discounts end at 5:00 pm the weekday before any event.