The All-American Tattoo Convention
Apr. 12 - Apr. 14
Crown Expo
Apr. 12 - 2:00 pmApr. 13 - 12:00 pmApr. 14 - 12:00 pm
Single Day Advance: $25 | 3-Day Pass: $40 Advance | VIP 3-Day Pass (Shirt, Promo Package): $65 Advance / $75 at the Door
A $5 military discount is available at the Crown Box Office and the Leisure Travel and Ticket Office located on Fort Bragg with the presentation of a valid ID.
Kids 15 & Under do not need a ticket to attend.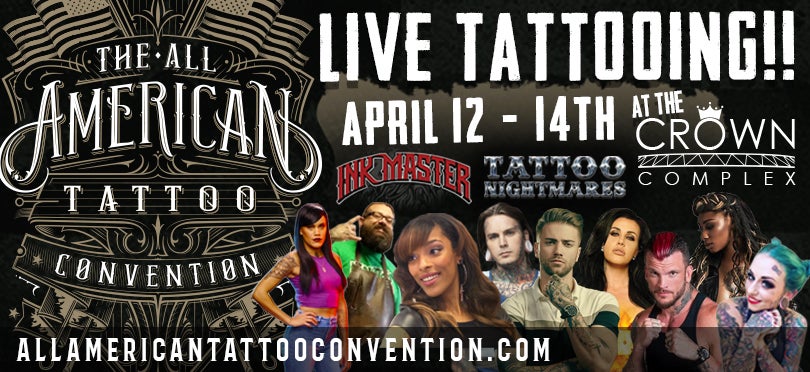 Get ready! The All-American Tattoo Convention will take over the Crown Expo April 12-14, 2019!
This convention is in its 3rd year and has been named a featured show twice by World Tattoo Events! Only 20 shows in the world have been given this honor so far for 2019.
Advance single-day ticket prices start at $25 and are available now online at CapeFearTix.com, by phone at 888-257-6208 and in person at the Crown Complex Box Office and the Leisure Travel and Ticket Office located on Fort Bragg. Multi-day passes are available and military discounts are also available in advance at the box office.
With up to 90% of infantry having at least one tattoo, the home of Fort Bragg was a natural fit to host the convention. The goal is to give some of the best tattoo artists in the world the opportunity to showcase their talents to some of the nation's bravest heroes, while also raising money for local charities that benefit our soldiers and their families. A portion of the ticket sales raised from this event will go to assist soldiers with PTSD and other combat related injuries.
The All American Tattoo Convention will feature a sideshow act, a pinup contest, over 30 tattoo contests with world renowned judges including the founder of Sullen apparel Jeremy Hanna and many many TV show tattoo artists. "We had almost 30 Inkmaster contestants & show personalities last year, we expect even more this year!" says Ryan Harrell the promoter. The All Veteran Parachute team will also be jumping in to kick off the show and again on Saturday. This is the largest tattoo convention in NC and one of the largest on the east coast right here in Fayetteville.
For more information on featured artists and additional activities, please visit allamericantattooconvention.com, check out the shows event page on Facebook or their Instagram feed.
Read More
GROUP TICKET INFORMATION

Groups of 10+ can save $5 Per Ticket!

Contact Alan Singer at 910-438-4111 or [email protected]

*Advance purchase tickets only. subject to availability. additional fees may apply. group discounts end at 5:00 pm the weekday before any event.