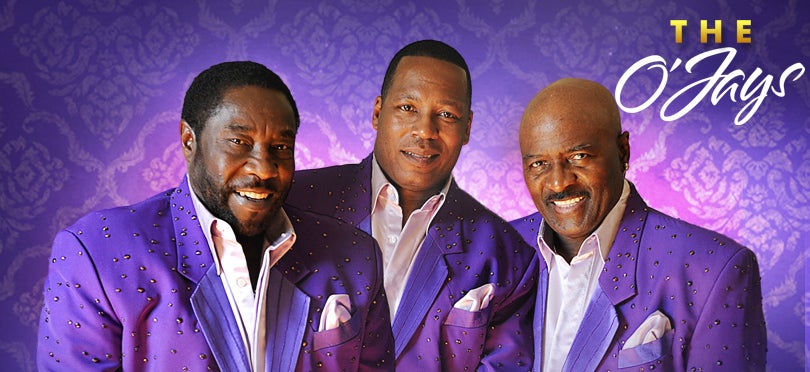 Community Concerts proudly presents The O'Jays -- the group that brought you such soulful hits as "Love Train", "Put Your Hands Together", "For The Love of Money" – live in concert on Friday, March 15, 2019!
Tickets are on sale now and can be purchased online at CapeFearTix.com, by phone at 888-257-6208, and in person at the Crown Complex Box Office & Leisure Travel Services located on Fort Bragg.
The O'Jays are touring history, a connection to an era and a sound that formed the soundtrack for the lives of several generations. The O'Jays are still hitting the road with the same electrifying energy they've had for over 50 years.
Walter Williams and Eddie Levert first met when they were the ages of 6 and 7 respectively. As teenagers in Canton, Ohio, they formed a band originally consisting of Eddie Levert, Walter Williams, William Powell, Bobby Massey and Bill Isles. In 1963, the band took the name "The O'Jays" in tribute to Cleveland radio disc jockey Eddie O'Jay. Several members have changed, but the core, original lead singers Eddie Levert and Walter Williams, continue to front the group.
In 1972, Gamble & Huff, a team of producers and songwriters with whom the O'Jays had been working for several years, signed the group to their Philadelphia International label. With this magic formula, often called The Sound of Philadelphia, The O'Jays scored the first number 1 and million-seller, "Backstabbers." Subsequently, they succeeded with various chart-topping pop and R&B singles including "Love Train", "Put Your Hands Together", "For The Love of Money", "I Love Music", "Darlin' Darlin' Baby (Sweet, Tender, Love)", "Livin' For The Weekend" and"Use Ta Be My Girl." This success propelled The O'Jays to be the first black vocal group to perform in arenas throughout America during the 70s and 80s.
The O'Jays were inducted into the Rock & Roll Hall of Fame in 2005. They were inducted into the Vocal Group Hall of Fame in 2005 and honored with BET's Life Time Achievement Award in 2009. In 2013, they were inducted into The Official R&B Music Hall of Fame. Today, the songs of The O'Jays are still being used in many movies, commercials and TV shows. "For The Love of Money" continues to be the theme song for "The Apprentice."
Eddie Levert Sr., Walter Williams Sr. and Eric Nolan Grant, who joined the group in 1995, continue to thrill fans today. Throughout their career The O'Jays have achieved 10 Gold albums, 9 Platinum albums and 10 #1 hits.
This show is pure fun! Get on board. Here comes the Love Train, says Michael Fleishman, Attractions Director of Community Concerts.
Read More
GROUP TICKET INFORMATION

Groups of 10+ can save $5 Per Ticket!

Contact Alan Singer at 910-438-4111 or [email protected]