The Charlie Daniels Band & The Marshall Tucker Band: Southern Uprising Tour
Apr. 7
Crown Theatre
7:30 pm
$100, $75, $50, $35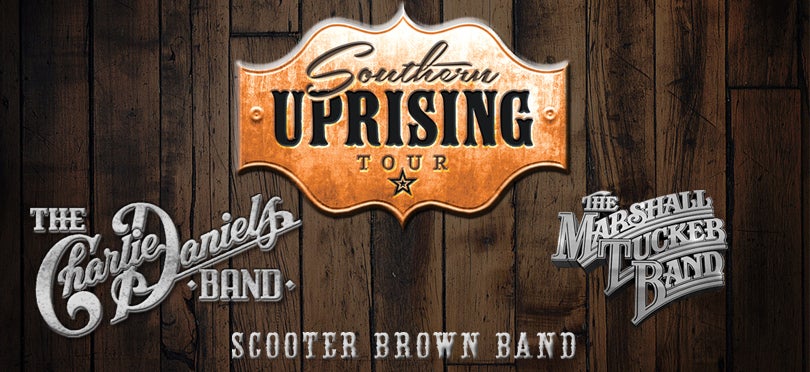 Legendary Southern rock groups The Charlie Daniels Band, The Marshall Tucker Band and Scooter Brown Band are coming to the Crown Theatre Saturday, April 7 at 7:30 p.m.
Tickets are on sale now and can be purchased online at CapeFearTix.com, by phone at (888) 257-6208, or in-person at the Crown Complex Box Office or at the Leisure Travel Office on Fort Bragg.
About The Charlie Daniels Band:
From his Dove Award winning gospel albums to his genre-defining Southern rock anthems and his CMA Award-winning country hits, few artists have left a more indelible mark on America's musical landscape than Charlie Daniels. His own unique voice as an artist emerged as Charlie recorded his self-titled solo album in 1970 for Capitol Records. Two years later he formed the Charlie Daniels Band and the group scored its first hit with the top ten "Uneasy Rider." Since then the CDB has populated radio with such memorable hits as "Long Haired Country Boy," "The South's Gonna Do It Again," "In America," "The Legend of Wooley Swamp" and of course, his signature song, "The Devil Went Down to Georgia," which won a Grammy for Best Country Vocal Performance by a Duo or Group in 1979 as well as single of the year at the Country Music Association Awards.
About The Marshall Tucker Band:
Still led today by founding member and lead singer Doug Gray, they represent a time and place in music that will never be duplicated. Gray is quick to credit the band's current dynamic members with carrying on the timeless essence of The Marshall Tucker Band sound. Together they present a powerful stage presence as they continue to tour the country and continue to be powerful force in the world of music. With hit singles like "Heard It In a Love Song," "Fire On The Mountain," "Can't You See," and "Take The Highway," they earned seven gold and three platinum albums while they were on the Capricorn Records label.
About The Scooter Brown Band:
After 4 years and 3 months, 2 tours overseas with 1 tour of combat in Iraq as a United States Marine, Scott Brown traded his guns in for guitars and hit the road. The Scooter Brown Band was formed in 2005 and played mainly in and around Houston, Texas. It wasn't until 2009 with the release of their first studio album, "Between Hell & Texas," that they gained a notable presence in the Texas music scene. Along with their growing notoriety came their first radio single "Apology." Other radio releases were soon to follow and include "Whiskey Talkin", "Soldiers Christmas Eve", "Feels Like Home,", and "Summer Song". In 2010, Scooter Brown Band put out the album "LIVE at BIG TEXAS". In 2013, they followed up with their next studio album, "VALOR." The newest self-titled album "Scooter Brown Band" released on September 18, 2015.
Read More
GROUP TICKET INFORMATION

Groups of 10+ can save $5 Per Ticket!

Contact Alan Singer at 910-438-4111 or [email protected]

Click Here for Group Discounts Flier

*select seating only. subject to availability. additional fees may apply. group discounts end at 5:00 pm the weekday before any event.