TRAXXAS MONSTER TRUCK
Feb. 16 - Feb. 17
Crown Complex
Feb. 16 - 7:30 pmFeb. 17 - 7:30 pm
$21.00, $23.00, $28.00 & $33.00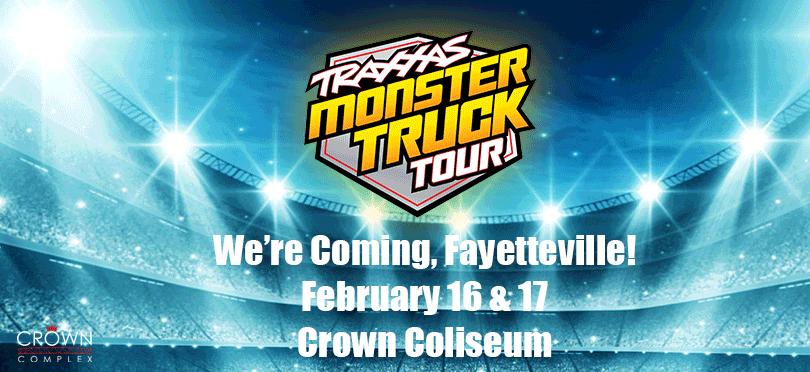 WITNESS THE THUNDER! Fayetteville, NC will be motorsport's entertainment epicenter with the nation's most competitive MONSTER TRUCKS, as the TRAXXAS Monster Truck Tour invades the Crown Coliseum on February 16 & 17. See these incredible 10,000 pound car crushing giants compete in racing, wheelie contests, and then rock the house with amazing freestyle action during the TRAXXAS Monster Truck Tour! Plus, you can meet the drivers and see the trucks up close at the pre-event Autograph Pit Party!
FEATURING:
SKULLY- Crushing the competition HEAD ON!
CRANIAC- CRAZY in the Cranium!
X-MAXX- Taking it to THE MAXX!
BAD TO THE BONE Do you dare find out!?!
THE CHAMP... The name says it all!
TRANSAURUS…A 3 story tall, fire breathing, car eating dinosaur!
PIT PARTY & DRIVER AUTOGRAPH SESSION- Come early, meet the drivers
RIDE TRUCK- Ride in a real Monster Truck during the Pit Party and Intermission!
Read More
GROUP TICKET INFORMATION

Groups of 10+ can save $3 per ticket! Contact Alan Singer at 910-438-4111 or [email protected]

CLICK HERE for Group Flier

*subject to availability. additional fees may apply. group discounts end at 5:00 pm the weekday before any event

Anatomy of a Monster Truck Session

Get up close and personal with a Monster Truck!

A Driver will demonstrate the inner workings of their Monster Truck to your group! Learn how these mega machines work, have a Q&A session with a driver, get autographs, and take pictures!

PLUS Save on Tickets!

The perfect STEM experience for your group!

*This experience will begin at 5:00 PM*

Click Here for Anatomy of a Monster Truck Flier

Contact Alan Singer at 910-438-4111 or [email protected]

*subject to availability. additional fees may apply. group discounts end at 5:00 pm the weekday before any event. Anatomy Of A Monster Truck Session Sales end 2/14/2018 at 5:00 pm