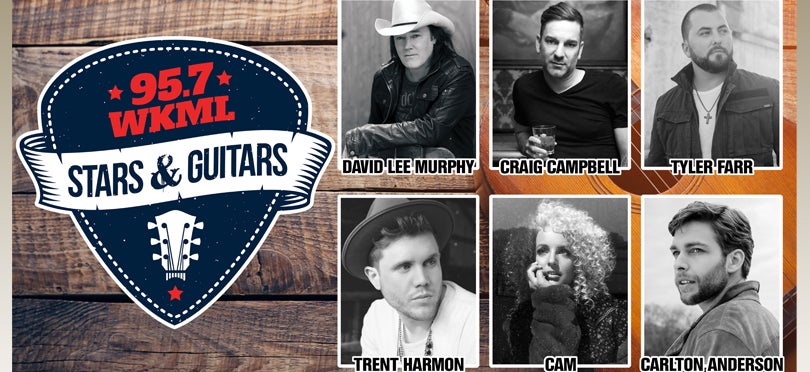 Oct 1, 2018
95.7 WKML Stars & Guitars Returns
Fayetteville, NC (October 1, 2018) – The 7th Annual 95.7 WKML Stars & Guitars concert returns to the Crown Theatre on November 12. Scheduled performers include David Lee Murphy, Craig Campbell, Tyler Farr, Trent Harmon, Cam and Carlton Anderson.
Tickets go on sale Monday, October 8 at 10 a.m. and can be purchased online at CapeFearTix.com, by phone at 888-257-6208, and in person at the Crown Complex Box Office & Leisure Travel Office located on Fort Bragg.
A VIP Experience will also be available for purchase. The VIP Experience include as ticket in the first four rows of the theatre, access to a special preshow dinner party with a performance from Carlton Anderson, and a VIP gift bag.
About Spectra
Spectra is an industry leader in hosting and entertainment, partnering with clients to create memorable experiences for millions of visitors every year. Spectra's unmatched blend of integrated services delivers incremental value for clients through several primary areas of expertise: Venue Management, Food Services & Hospitality, and Partnerships. Learn more at SpectraExperiences.com. Follow Spectra on Facebook, Instagram, Twitter and LinkedIn.
About Spectra Venue Management
Spectra's Venue Management division is the industry leader across a full range of services that impact the bottom-line success of public assembly venues, including marketing and sales, corporate partnerships, event booking, ticket services and box office management, customer service, operations and engineering and finance and administration.
View All News