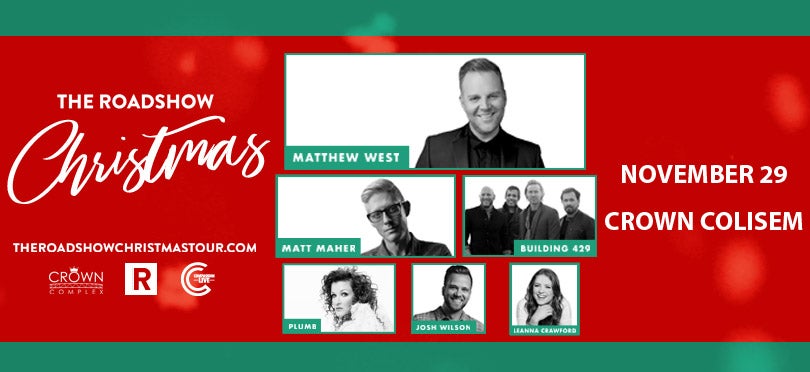 Oct 21, 2018
Roadshow Christmas Tour to Play Crown Coliseum
Fayetteville, NC (October 22, 2018) – Continuing to take both music and message to thousands, Compassion LIVE's "The Roadshow Christmas Tour" featuring Matthew West, Matt Maher, Building 429, Plumb, Josh Wilson and Leanna Crawford will play the Crown Coliseum on November 29, 2018.
Tickets are on sale now and can be purchased online at CapeFearTix.com, by phone at 888-257-6208, and in person at the Crown Complex Box Office & Leisure Travel Services located on Fort Bragg.

For additional information, visit crowncomplexnc.com theroadshowchristmastour.com and theroadshowtour.com.
Stay Connected With "The Roadshow Christmas Tour:"
Facebook // www.facebook.com/TheRoadshowChristmas
Instagram // www.instagram.com/TheRoadshowChristmas
Spotify // Roadshow Mix

About Compassion LIVE:
Compassion LIVE, established in 2014 by Compassion International, provides the highest quality events for families to join together and grow with others in faith. Compassion LIVE partners with impact-making leaders, artists and communicators to produce life-changing events that share the message of faith and impact the church for children around the world. For more information, visit www. compassionlive.com.

Founded in 1952, Compassion International is a Christian child development organization that works to release children from poverty in Jesus' name. Compassion revolutionized the fight against global poverty by working exclusively with the Church to lift children out of spiritual, economic, social and physical poverty. Compassion partners with more than 6,700 churches in 25 countries to deliver its holistic child development program to over 1.8 million babies, children and young adults. Compassion's child sponsorship program has been validated through independent, empirical research. For more about the ministry, visit compassion.com or follow them on Twitter @compassion.

Stay Connected With Compassion LIVE:
www.compassionlive.com
www.facebook.com/compassionlive
www.instagram.com/compassionlive
About Spectra
Spectra is an industry leader in hosting and entertainment, partnering with clients to create memorable experiences for millions of visitors every year. Spectra's unmatched blend of integrated services delivers incremental value for clients through several primary areas of expertise: Venue Management, Food Services & Hospitality, and Partnerships. Learn more at SpectraExperiences.com. Follow Spectra on Facebook, Instagram, Twitter and LinkedIn.
About Spectra Venue Management
Spectra's Venue Management division is the industry leader across a full range of services that impact the bottom-line success of public assembly venues, including marketing and sales, corporate partnerships, event booking, ticket services and box office management, customer service, operations and engineering and finance and administration.
###
Media Contact:
Courtney Hyder
the media collective
[email protected]
(615) 591-7989
www.themcollective.com
Venue Contact
Lauren McDermott
Crown Complex
(910) 438-4117
crowncomplexnc.com
View All News