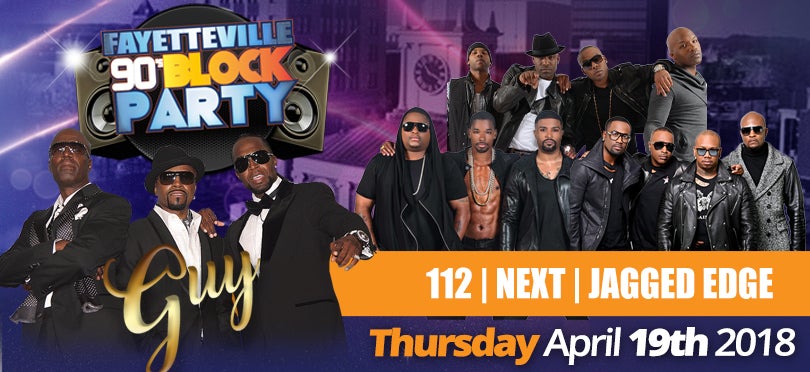 Mar 5, 2018
Fayetteville 90's Block Party
Fayetteville, NC (March 5, 2018) –The "90's Block Party" produced by G-Squared Events, has announced a new North American tour stop in Fayetteville, NC on Thursday, April 19. The 90's Block Party Tour will span across 40 cities between February and April 2018.
Tickets go on sale Friday, March 9 and can be purchased online at CapeFearTix.com, by phone at (888) 257-6208, in-person at the Crown Complex Box Office or at the Leisure Travel Office on Fort Bragg.
The 90's Block Party Tour invites attendees to reminisce about the most incredible R&B music from that decade. A time when music was fun and everyone was able to party and have a good time. The Fayetteville 90's Block Party Tour stop will feature performances by Guy, a legendary 90's R&B Band, whose members include Teddy Riley and brothers Aaron and Damion Hall. Adding to the excitement, Guy will be joined by tour special guests Jagged Edge, 112 and Next.
Rolling off sold-out tour stops in Louisville, Houston, and Jacksonville, fans proclaim that Guy and the other acts on the tour "have not lost an ounce of their greatness from the 90's."
---
About G-Squared Events
G-Squared Events is a national touring company based out of Houston, TX, specializing in live entertainment. G-Squared Events is best known for bringing high-quality production events with some of the nation's biggest entertainers including Charlie Wilson, Tyrese, Steve Harvey, Keith Sweat, and Brian McKnight. For additional information, visit http://www.gsquaredevents.com.
View All News