Aug 5, 2015
Tips for planning your next event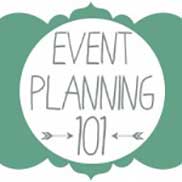 If you don't have a background in event planning, starting from scratch can be very stressful and can become a duty that you would not want to experience again. An event can make or break a business, and hosting it can put a lot of pressure on the planner. Try using this list of tips can relieve some stress.
1) Plan Ahead
Get out the whiteboard and list the main goal you want to achieve from this event. Having a strategy while planning for the event will make you more prepared for any obstacles that might be thrown your way.
2) Budget
While planning for the event, make sure you have a set budget. Create a checklist of all the things you need for the occasion with estimate prices. Do your best to find deals to cut as many costs as you can. In doing so, you'll have money placed aside for any last minute needs.
3) Target Audience
Always know your audience. Is this event for executives or for kids? This will let know what you need to order and how you will need to layout the room.
4) Invitations
One of the most important parts of your event is invitations. You never want to send your invite too early or too late; three weeks beforehand is great timing. Make sure your invite is elegant but also simple with the date, time, and location with directions.
5) Visit the Venue
Visit the venue the day before so you can visualize how you want the attendees to experience the event. This will give you enough time to plan out where you would like to have signs, tables, and staff to be located without the confusion day-of.
Remember, always stay calm. Every detail will not be absolutely perfect or go according to plan and that is okay! These tips will give your event structure, a relaxed mindset, and definitely an event to remember for your attendees.
– Cena
View All News