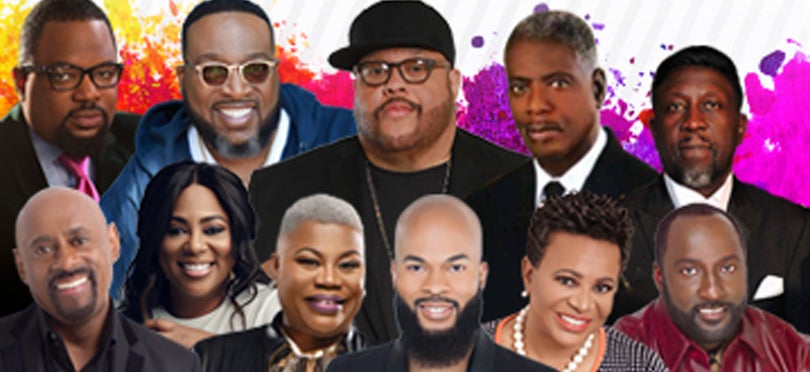 Jul 30, 2018
2018 WIDU Anniversary Announces Lineup
2018 WIDU ANNIVERSARY ANNOUNCES LINEUP
Thu Oct 11: Carolina's BEST – JJ Hairston & Maranda Curtis & More!
Fri Oct 12: Traditional Night - Lee Williams, Doc McKenzie, Luther Barnes & More!
Sat Oct 13: WIDU Celebration – Fred Hammond, Hezekiah Walker & Marvin Sapp!
2018 WIDU Anniversary event tickets go on sale Wednesday, August 1st at 10 AM
Fayetteville, NC (July 30, 2018) – The 2018 WIDU Anniversary is expected to be the most exciting and inspiring of its kind, thus far. For decades, WIDU has brought quality, faith-based, family friendly events to Cumberland County. Each year, the week-long celebration culminates with three power packed days at the Crown Complex. This year's final event, Saturday, October 13, is headlined by multiple GRAMMY®, Dove and Stellar Award-winning recording artists Fred Hammond, Hezekiah Walker & Marvin Sapp!
Ticket go on sale this Wednesday, August 1 and can be purchased online at CapeFearTix.com, by phone at 888-257-6208, or at the Crown Complex Box Office and the Leisure Travel Office located on Fort Bragg.
For the third year the WIDU Anniversary will feature three major events in the Crown Coliseum. Thursday Oct. 11th it's Carolina's BEST talent competition. Maranda Curtis will present an opening concert beginning at 6:30pm. Then judges will give feedback to all 18 Contestants. Contestants win cash & the opportunity to open the WIDU Anniversary Celebration. JJ Hairston brings this year's closing concert at Carolina's BEST.
Friday's Traditional Gospel Night promises to be inspiring and heart touching. Help us as we say farewell to a living legend, Lee Williams & The Spiritual QC's in their final performance at a WIDU Anniversary. Other outstanding artists also include: Doc McKenzie and the Hi-Lites, Luther Barnes & Restoration Mass Choir, The Virginia Aires, Gospel Legends, Ricky McDuffie & Family, plus several more. This year's tribute will honor the late Rev. F.C. Barnes. This event starts at 5pm, Friday, Oct. 12 in the Crown Coliseum. For 2018 WIDU Anniversary details go to widuanniversary.com.
Saturday, October 13th, 4pm, Fred Hammond returns as he headlines the 2018 WIDU Anniversary Celebration with special guests Hezekiah Walker & Marvin Sapp! This powerhouse trio of gospel legends account for some of gospel music's greatest hits. This 3 hour concert gives you the opportunity to relive & sing along to all of your favorite songs by them from the last 20 years!
FRED HAMMOND: For more than 35 years, music lovers around the world have known Grammy Award Winning artist Fred Hammond as a gifted vocalist, songwriter, musician, producer and arranger. Creator of a unique sound named: "Urban Praise & Worship" Fred Hammond has become one of the most respected names in the Gospel music industry. Fred Hammond has created songs that stand the test of time such as, "No Weapon", "Jesus Be A Fence", "Glory to Glory", "Let the Praise Begin", "They That Wait," and the chart-topping hit, "Blessed."
HEZEKIAH WALKER: Bishop Hezekiah Walker, Jr. is a Grammy Award-winning gospel music artist, founder and leader of the Love Fellowship Choir (LFC), and Pastor and Bishop of the Love Fellowship Tabernacle. Over the years, many songs by the Love Fellowship Choir have become nothing short of anthems for the young gospel church, among them "I'll Make It", "Clean Inside", "Jesus Is My Help", "Wonderful Is Your Name", "Power Belongs to God", "Faithful Is Our God", "Grateful", and the chart topping hit, "Every Praise."
MARVIN SAPP: Bishop Marvin L. Sapp is a passionate orator and biblical teacher, and gospel music superstar who serves as the senior pastor of Lighthouse Full Life Center Church. Many say his voice is instantly recognizable with a characteristically raspy ringing with power and authority! One of his most notable hit's "Never Would Have Made It" held the #1 slot on Gospel and R&B radio for over a full year and topped the Urban AC Radio Chart; something almost unheard of in Gospel Music.
In addition to the 2018 WIDU Anniversary concert events in the Crown Coliseum October 11-13, the following events will also be hosted at the Crown Complex:
Women's Empowerment Luncheon - Message from Dr. Jasmin Sculark
Thursday, October 11, at 12:00 noon
Crown Expo
Prayer Breakfast - Message from Bishop Paul S. Morton, Sr.
Musical Guest: Benita Jones
Friday, October 12 at 9:00 a.m.
Crown Expo
EXPO & Empowerment Conference
Thursday & Friday, Oct. 11 & 12
Crown Expo
---
About WIDU
WIDU 1600 AM and the WE-DO Radio Network are owned & operated by Wes and Sandy Cookman, based in Fayetteville, North Carolina. WIDU has served Fayetteville NC as a community based radio station since 1958. Today's WIDU programming focuses on Inspirational Gospel Music, Local, State & National News, Local Talk Radio, Local Church ministry on weekends. Their company WE-DO Productions has presented and produced faith based, family friendly events for 27 years. Wes & Sandy also own & operate WYDU 1160AM Red Springs, WAGR 1340AM Lumberton, and WEWO 1460AM Laurinburg.
---
About Spectra Venue Management
Spectra's Venue Management division is the industry leader across a full range of services that impact the bottom-line success of public assembly venues, including marketing and sales, corporate partnerships, event booking, ticket services and box office management, customer service, operations and engineering and finance and administration.
View All News