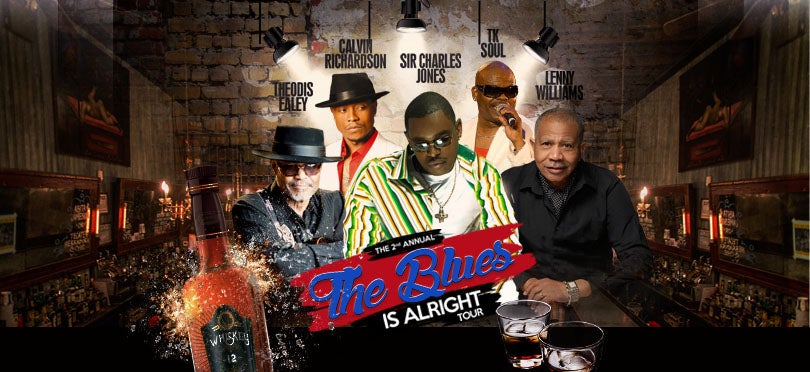 Dec 10, 2018
2nd Annual Blues is Alright Tour to Take Over the Crown Arena
Fayetteville, NC – (December 10, 2018) – The 2nd Annual Blues is Alright Tour featuring Sir Charles Jones, Calvin Richardson, TK Soul, Lenny Williams and Theodis Ealey will be live at the Crown Arena on Saturday, March 2nd!
Tickets go on sale Friday, December 14 at 10:00 a.m. and can be purchased online at CapeFearTix.com, by phone at (888) 257-6208, in-person at the Crown Complex Box Office or at Leisure Travel Services on Fort Bragg.
---
About Sir Charles Jones
Jones was born in Akron, Ohio. When he was young, his family moved to Birmingham, Alabama, where he was raised. It was in Birmingham where his singing career started. Jones taught himself how to write his own music, as well as arranging and producing it. His style ranges from jazz to fusion and from gospel to blues.
About Calvin Richardson
For Calvin Richardson, affectionately dubbed The Soul Prince, soul music is more than a trend or even a musical style; it is a set of values that he has been living since even before his debut release in 1999. He translates the essence of soul music into a contemporary context and consistently brings the music to the people via constant touring with a full band. His persistence seems to be paying off.
About TK Soul
Contemporary soul singer T.K. Soul has built a loyal grassroots following for his music that mixes R&B traditions with modern-day attitude and hip-hop accents. T.K. Soul was born Terence Kimble in Winnfield, Louisiana on August 26, 1964. From a young age, Kimble had a keen ear for music, and soaked up the influences of soul, funk, and R&B artists ranging from Stevie Wonder, the Jackson 5, and Al Green to Maze, Rick James, and Prince.
About Theodis Ealey
Blues Guitarist, Vocalist, Songwriter, Producer and Entertainer are just a few of the titles that describe the phenomenon of Theodis Ealey. This Mississippi native first picked up an instrument when his older brother, "Y" "Z" Ealey first taught him how to play at the age of 4. Ten years later, Theodis, on bass, was playing at his first gig with brothers, "Y" "Z" and Melwin Ealey, in a group called "Y" "Z" Ealey and the Merrymakers.
About Lenny Williams
The ultimate soul crooner, Oakland, California native Lenny Williams possesses one of the most distinctive voices in contemporary music. With his rich, passionate vocal style, he is rightfully regarded as one of R & B's most influential soul men. Lenny Williams' style has transcended into the new millennium, influencing many of today's newest R & B and Pop vocalists.
View All News