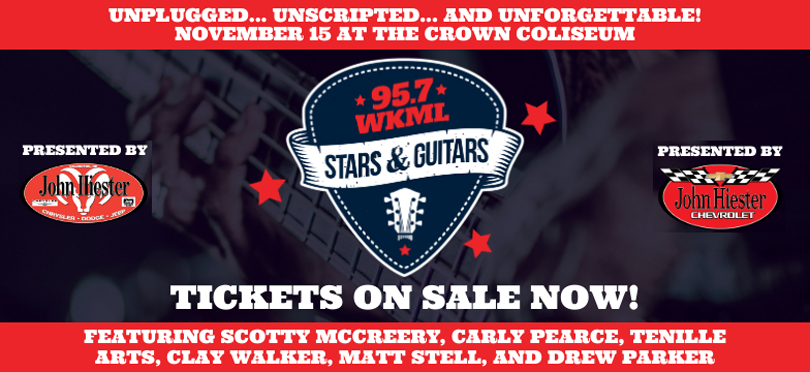 Aug 27, 2021
95.7 WKML Stars & Guitars
The biggest country music concert event in Fayetteville every year is back and the Big 95.7 WKML is thrilled to bring our community together once again, after a year away.
Coming on the heels of the biggest and best Stars & Guitars show ever in 2019, our Unplugged, Unscripted, and Unforgettable lineup will take the Crown Coliseum stage on Monday, November 15, 2021.
And this year, we're going new and old school to celebrate country music. Our lineup includes legendary country superstar Clay Walker; the pride of North Carolina, Scotty McCreery; ACM and CMA award-winner Carly Pearce; and rising stars Matt Stell, Tenille Arts and Drew Parker.
Stars & Guitars will once again be in the Crown Coliseum, after a wildly successful move in 2019. Every ticket up for sale will be just $25, no matter where in the Coliseum the seat is! Tickets are on sale now (Friday, August 27 at 10 a.m.) at the Crown Complex box office or at WKML.com. Note that additional fees will apply for online ticket sales.
"We're so excited to be bringing live country music back to our wonderful WKML audience in Fayetteville," said WKML Programming Director Tee Gentry. "After a year away, we know our listener family is anxious to see some of their favorite artists on stage at the same time, telling stories and singing great music."
Stars & Guitars is unlike the traditional one-artist shows most fans may be used to, Stars & Guitars puts all of the artists on the stage at one time for a unique acoustic experience. Featuring story-telling, unique song performances, and a whole lot of fun, it's an entertaining show from start to finish.
"Our fans really responded well to our big move into the Crown Coliseum in 2019, and we're thrilled to be able to get back out there," Gentry said. "There really is no experience like a Stars & Guitars event, with some of the bests artists in country music joining together on one big stage."
For fans who don't get a chance at paid tickets before they sell out, WKML will feature a series of ticket stop events this summer and fall, where lucky listeners can win their way in to the show.
"Our listeners have heard all of these artists all over our radio station," Gentry said. "It's going to be such a treat to have legendary artists mixing with great newcomers."
ARTIST BIOS
Chris Janson
There's more to the duality of Clay Walker's debut Show Dog Nashville album Texas To Tennessee than the title. Certainly, the realities of place are as central as this comeback album's name implies: Nashville busily working toward the next fresh hit; Texas moving at its inimitable and familiar pace. There's also a mix of songwriting and production approaches, evident and more nuanced relationships between the songs themselves, and the overarching presence of a naturally gifted vocalist who relentlessly pursues his own development as a singer. But don't mistake those dualities for dichotomy – and certainly not polarity. In a storied career dotted with smash singles, platinum albums and countless honors and acclaim, maybe the connection between country's timeless themes and music-of-the-moment timeliness has been there all along.
Many of the country fans behind the almost 20 million on-demand and video streams for his latest single "Need A Bar Sometimes" – who may also be among his 750,000 TikTok followers – are wholly unaware of Walker's history. Discovered in a Beaumont area bar by noted producer and head of Giant Records James Stroud (Toby Keith, Tracy Lawrence, Tim McGraw, Kenny Rogers), Walker was in his early twenties when he started rattling off a string of smash hits. Among them, "Live Until I Die," "Dreaming With My Eyes Open," "This Woman And This Man," "Hypnotize The Moon," "Rumor Has It," "Then What," "I Can't Sleep" and "She Won't Be Lonely Long." His self-titled debut album rocketed to platinum status, the first of four to cross the million-sold mark. Racking up more than 30 charted singles and 11 No. 1s wasn't without its struggles, however.
Teamwork is also at the core of Walker's battle against Multiple Sclerosis (MS). Diagnosed in 1996, he has become a passionate advocate and fundraiser for others with the disease through his Band Against MS. Among his efforts are the annual Clay Walker Charity Classic at Pebble Beach. The golf event highlights the highly active way Walker has approached MS, continuing to perform and raise a growing family while showing no signs of slowing.
"It's very gratifying to be at a point in my life where I can offer something in its fullness," he continues. "I've never quite had that before. I was pegged as a neo-traditionalist early on, but I don't think I fit that mold. For a lot of reasons – maybe the pendulum of music is in the perfect spot – but today's music and my style have hit center on this album."
Scotty McCreery
Scotty McCreery burst onto the national music scene in 2011 at age 17, quickly establishing himself as one of country music's hottest new stars. Now in his early twenties, the talented singer/songwriter has album sales approaching 3 million, and received both Platinum and Gold album certifications, debuted three consecutive albums at No. 1 on a Billboard chart, and achieved one Gold and three Platinum-certified singles as well as two Top Ten hits. McCreery has toured with Brad Paisley and Rascal Flatts, headlined his own tours, earned industry and fan accolades, and was named "Best American Idol" by the readers of The Los Angeles Times and "Country Music's Sexiest Man" by the readers of NASH Country Weekly Magazine. He has amassed more than three million followers on Facebook and Twitter, and received more than 150 million YouTube views. And with the release of his first book Go Big or Go Home: The Journey Toward the Dream in 2016, he can also add add the title of author to his resume.
His deep voice and irresistible sound create a perfect blend of contemporary and traditional country. With more than 400 live shows under his belt across the U.S., Canada, the Philippines and the Caribbean, McCreery has quickly become a crowd favorite appealing to all ages. His loyal fans – the McCreerians – are among the most dedicated and enthusiastic in the country music world.
After winning Season Ten of "American Idol" and capturing the hearts of millions of television viewers both nationwide and overseas, McCreery released his debut album, which was the best-selling solo album released by a country artist in 2011. Indeed, he became the youngest man and first country music artist in history to have his first album debut atop the all-genre Billboard Top 200 albums chart.
Scotty has been on the Stars & Guitars stage several times, and is always a fan favorite.
Carly Pearce
Fiercely rooted in the classics, the girl who left her Kentucky home and high school at 16 to take a job at Dollywood has grown into a woman who embraces the genre's forward progression and is confident in what she wants to say. Lighting a fire with her debut album EVERY LITTLE THING and the PLATINUM-certified history making title track, Carly has since become "Country's 'it' girl" (ABC Radio), touring alongside Blake Shelton, Rascal Flatts and Luke Bryan.
With the most CMA Awards nods for any new artist in 2020, she won Musical Event of the Year. In a year of uncertainty, Carly turned to the comfort of records she's drawn inspiration from since her childhood dream started to take hold – Dolly, The Chicks, Trisha, Reba, Patty Loveless. Like those before, she leaned on her own intuitions with Top 30-and-rising single "Next Girl," and a clever new video.
Carly explores more of a pivotal time with a seven-song collection called 29 (available now via Big Machine Records), finding creative simpatico with Shane McAnally and Josh Osborne following the unexpected death of her mentor and former producer busbee. With her catalogue already boasts over 1 billion streams, she opens up even more in Carly Pearce's 29 – The Interview. As Carly marks a new chapter coming of age, she earns three ACM Awards nominations for Female Artist, Single and Music Event of the Year with her PLATINUM-certified, No. 1 duet with Lee Brice "I Hope You're Happy Now."
This is Pearce's second visit to the Stars & Guitars stage.
Matt Stell
With more than 415 Million cumulative streams across his catalog to date, Matt is adding to this tally with his newest single, "That Ain't Me No More," the follow up to his back-to-back No. 1s, Platinum-certified track "Prayed For You" and Gold-certified "Everywhere But On." As one of only eight debut country artists in the last six years to have their first two singles top the charts, Matt celebrated this success as one of Country Radio Seminar's 2021 New Faces of Country Music class and will join Old Dominion, Toby Keith, and Miranda Lambert on tour later this year.
In 2020, Stell kicked off the year with a performance on "Good Morning America," leading into his first headlining tour. He started Penned Up – his hugely successful 8-week Instagram-live series, was the first-ever artist to receive a virtual plaque from the RIAA for "Prayed For You," an ASCAP Pop and Country most-performed song awards winner, and performed the National anthem for NASCAR and NFL events. In October he released his new EP, Better Than That. Co-produced by Stell with Ash Bowers, the 8-song EP also includes "If I Was A Bar," and its innovative music video filmed during quarantine, where Matt played all 13 characters.
The 6'7" Arkansas native has come a long way from playing college basketball for Drury University and making the choice to head to Nashville instead of Cambridge, MA where he was accepted into Harvard University's Extension School Pre-Med program. Following his dream of writing and performing, the self-taught vocalist and guitar-player made the move to Music City in 2014, landing a publishing and management deal with Wide Open Music and a record deal with music industry powerhouse Barry Weiss' RECORDS Nashville/Arista Nashville. Stell has received "Ones To Watch" shout-outs from multiple partners, including Vevo DSCVR, MusicRow's Next Big Thing, CMT Discovery Artist, YouTube Music Artist on the Rise and more.
Tenille Arts
Born and raised in the small prairie town of Weyburn, Saskatchewan, Tenille Arts picked up the guitar and penned her first song at age 13 and has been performing nonstop ever since. She made her first appearance on The Bachelor in January 2018, which resulted in a record deal with powerhouse indie label Reviver Records. She made her second appearance on the show in January of 2019 performing "I Hate This." The song hit #1 on the U.S. and Canadian iTunes Country Charts and #9 U.S. iTunes all-genre. Her third appearance on The Bachelor preceded the release of her new album Love, Heartbreak, & Everything In Between in January of 2020.
Tenille's music has tallied over 51 million lifetime streams. Pandora and CMT listed her as one of their new artists to watch, and Rolling Stone called Tenille "An edgy, Fearless-era Taylor Swift with crystalline vocals; ideal for hopeless romantics who are fire signs."
Tenille made her Grand Ole Opry debut on September 21, 2019 and has made appearances on the TODAY Show, the Radio Disney Music Awards and sang the Canadian National Anthem at game 3 of the 2019 NBA finals and at the 2020 NBA All-Star Game.
Drew Parker
It takes some folks 10 years to make a name for themselves in Music City, but in the three short years that Drew Parker has lived in Nashville, TN, he has been able to accomplish things he never dreamed were possible.
Coming from a small, unincorporated town of Stewart, Georgia (located in Covington, Georgia), Parker began singing at age 3 in front of small church crowds. Over the years, he began to build his confidence and, at age 14, he decided to pick up a guitar and teach himself how to play songs from his inspirations, such as Keith Whitley, Merle Haggard, Waylon Jennings, Travis Tritt, and Alan Jackson. At age 18, he expanded his musical abilities and learned to play piano, both of which he still uses today to craft lyrics and rhymes into songs.
Parker made the move to Nashville, Tennessee in 2015 and signed a publishing deal with RiverHouse/WarnerChappell in September of 2017. He is a co-writer on Luke Combs' debut platinum record "This Ones For You", Jake Owen's single "Homemade" and Luke Combs' "1,2 Many".
Aside from his cowboy hat and boots, Drew Parker is the definition of true country. He is genuine, honest, and carries an old soul that resonates with many. He is on the rise and sees no end in sight.
View All News