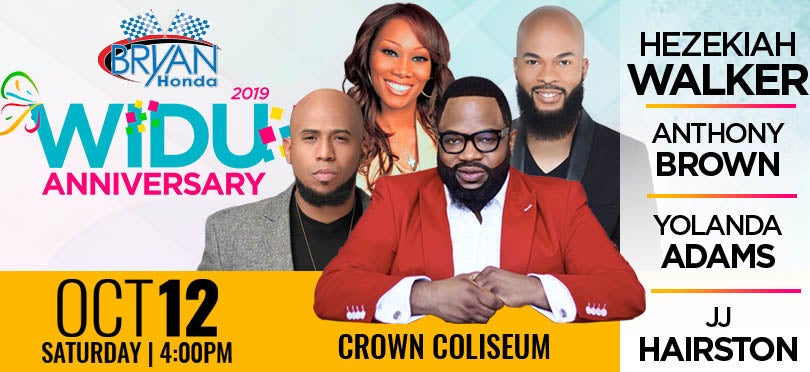 Sep 17, 2019
Anthony Brown joins the 2019 WIDU Anniversary Celebration Line Up!
Anthony Brown joins the 2019 WIDU Anniversary Celebration Line Up!
Fayetteville, NC (September 17, 2019) – The 2019 WIDU Anniversary is excited to announce GMA award winning and Grammy nominated artist Anthony Brown has been added to the WIDU Anniversary Celebration line up!
The 2019 WIDU Anniversary is expected to be the most exciting and inspiring, thus far. This year's celebration will culminate at the Crown Coliseum on Saturday, October 12, with performances by multiple GRAMMY®, Dove and Stellar Award-winning recording artists Hezekiah Walker, Yolanda Adams, JJ Hairston, and now Anthony Brown!
Tickets are on sale now and can be purchased online at CapeFearTix.com, by phone at 888-257-6208, or at the Crown Complex Box Office and the Leisure Travel Office located on Fort Bragg.
Anthony Brown will replace Tye Tribbett on the artist line up due to a recently announced international assignment. Sandy and Wes Cookman, as well as the entire WIDU family, send congratulations to Tye Tribbett. "We love him and look forward to him being with us again in the future" said Wes Cookman of WIDU. "We also want to thank his brother in Christ, Anthony Brown, for filling in for him as we continue to represent and lift God up with excellence!"
In addition to the 2019 WIDU Anniversary concert events in the Crown Coliseum on October 11 & 12, the following events will also be hosted at the Crown Complex:
Women's Empowerment Luncheon - Message from Pastor Ruby Holland, Music: Donnie McClurkin
Thursday, October 10, at 12:00 noon Crown Expo
Prayer Breakfast - Message from Rev. Eric Mansfield, MD
Musical Guest: Maurette Brown Clark
Friday, October 12 at 9:00 a.m. Crown Expo
UNITY Service
Thursday, Oct. 10, Crown Theatre, 7pm
Presented by The WIDU Wake Up Pastors Coalition
EXPO & Empowerment Conference
Thursday & Friday, Oct. 10 & 11 Crown Expo
For 2019 WIDU Anniversary details go to widuanniversary.com.
About WIDU
WIDU 1600 AM / 99.7 FM, widu1600.com and the WE-DO Radio Network are owned & operated by Wes and Sandy Cookman, based in Fayetteville, North Carolina. WIDU has served Fayetteville NC as a community based radio station since 1958. Today's WIDU programming focuses on Inspirational Gospel Music, Local, State & National News, Local Talk Radio, Local Church ministry on weekends. Their company WE-DO Productions has presented and produced faith based family friendly events for 28 years. Wes & Sandy also own & operate WYDU 1160AM Red Springs, WAGR 1340AM Lumberton, and WEWO 1460AM Laurinburg.
About Spectra Venue Management
Spectra's Venue Management division is the industry leader across a full range of services that impact the bottom-line success of public assembly venues, including marketing and sales, corporate partnerships, event booking, ticket services and box office management, customer service, operations and engineering and finance and administration.
# # #
Daniel Marsh
Director of Marketing
Crown Complex
910.438.4121
View All News