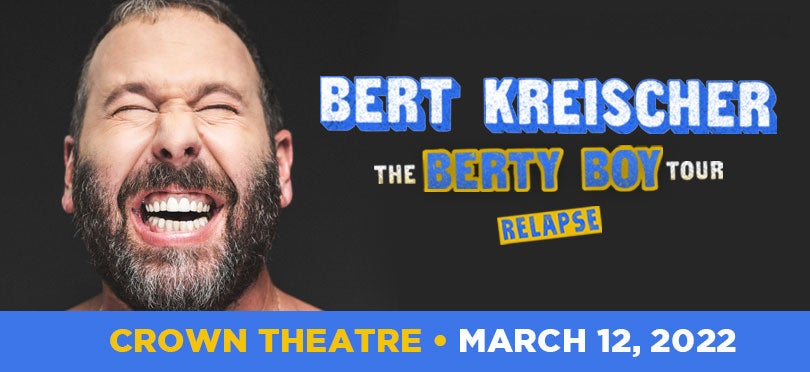 Oct 26, 2021
Bert Kreischer
The Berty Boy Relapse Tour
After bouncing back from the pandemic with his wildly successful 2021 Berty Boy Relapse Tour, award-winning comedian, podcast host, and author Bert Kreischer is taking no breaks from touring. Set to wrap the first leg of the Berty Boy Relapse Tour this December, The Machine will launch the next leg of the 50-date tour beginning in Vancouver, BC on January 13, 2022 and will make his stop at the Crown Theatre on Saturday, March 12, 2022.
After filming Legendary Entertainment's movie, The Machine, in Serbia earlier this year—an adaptation of the viral story Bert told onstage about getting involved with the Russian mob while studying abroad in college, Bert returned to his alma mater for a SOLD OUT show at Florida State University's Donald L. Tucker Civic Center during homecoming weekend; a full circle moment for the comedy superstar 24 years in the making.
In addition to his seven shows that were rescheduled due to the COVID-19 Pandemic, Bert has added an additional 43 markets to his tour itinerary, which will go on sale to the general public on Friday, October 29 at 10 AM local and can be purchased at the Crown Complex Box Office or CapeFearTix.com. Fans who follow Bert can access tickets before the general public via his artist presale beginning Wednesday, October 27 at 10 AM (local time). Be sure to sign up for the Crown Complex Insider Club to receive exclusive presale offers and to get your tickets as early as October 28. For rescheduled shows, all previously purchased tickets will be honored for the new dates listed below. For more information and tickets, visit bertbertbert.com or follow @bertkreischer on social media.
BERT KREISCHER: THE BERTY BOY RELAPSE TOUR 2021-2022
*Indicates already on sale
^Indicates multiple show times
October 28, 2021 Jacksonville, FL Florida Theatre *
October 29, 2021 Hollywood, FL Hard Rock Live *
October 30, 2021 Fort Myers, FL Barbara B. Mann Performing Arts Hall *^
November 3, 2021 Washington D.C. DAR Constitution Hall *
November 4, 2021 Washington D.C. DAR Constitution Hall *
November 5, 2021 Boston, MA Wang Theatre *^
November 6, 2021 New York, NY Hulu Theater at Madison Square Garden *
November 7, 2021 Boston, MA Boch Center Wang Theatre *
November 11, 2021 St. Louis, MO Stifel Theatre *^
November 12, 2021 Chicago, IL Auditorium Theatre at Roosevelt University *
November 13, 2021 Detroit, MI Fox Theatre Proud Partner Comerica Bank *^
November 14, 2021 Milwaukee, WI The Riverside Theater *^
November 17, 2021 Minneapolis, MN Orpheum Theatre Minneapolis *
November 18, 2021 Minneapolis, MN Orpheum Theatre Minneapolis *^
November 19, 2021 Rockford, IL Coronado Performing Arts Center *^
November 20, 2021 Cleveland, OH Rocket Mortgage FieldHouse *
December 2, 2021 Austin, TX Bass Concert Hall *^
December 3, 2021 Sugar Land, TX Smart Financial Centre at Sugar Land *
December 4, 2021 Grand Prairie, TX Texas Trust CU Theatre at Grand Prairie *^
December 5, 2021 New Orleans, LA Saenger Theatre *^
December 9, 2021 Abilene, TX Expo Center of Taylor County *
December 10, 2021 El Paso, TX Abraham Chavez Theatre *^
December 11, 2021 Phoenix, AZ Celebrity Theatre *^
December 16, 2021 Redding, CA Redding Civic Auditorium *
December 17, 2021 Sacramento, CA Sacramento Memorial Auditorium *^
December 18, 2021 Anaheim, CA City National Grove of Anaheim *^
December 19, 2021 Anaheim, CA City National Grove of Anaheim *
December 30, 2021 Bethlehem, PA Wind Creek Event Center *
December 31, 2021 Philadelphia, PA The Met Philadelphia *
January 13, 2022 Vancouver, BC Queen Elizabeth Theatre
January 14, 2022 Portland, OR Keller Auditorium
January 15, 2022 Seattle, WA McCaw Hall
January 20, 2022 Fresno, CA Saroyan Theatre
January 21, 2022 San Francisco, CA The Warfield
January 23, 2022 Bakersfield, CA Mechanics Bank Theater
January 27, 2022 San Diego, CA San Diego Civic Theatre
January 28, 2022 Las Vegas, NV The Theater at Virgin Hotels Las Vegas
January 29, 2022 Albuquerque, NM Kiva Auditorium
February 3, 2022 Oklahoma City, OK The Criterion
February 4, 2022 Wichita, KS Orpheum Theatre Wichita *^
February 5, 2022 Springfield, MO Gillioz Theatre *^
February 6, 2022 Little Rock, AR Simmons Bank Arena
February 17, 2022 Huntsville, AL Mark C. Smith Concert Hall *^
February 18, 2022 Asheville, NC Thomas Wolfe Auditorium
February 19, 2022 Roanoke, VA Berglund Center
February 20, 2022 Richmond, VA Altria Theater
February 24, 2022 Norfolk, VA Chrysler Hall
February 25, 2022 Columbia, SC Township Auditorium
February 26, 2022 Savannah, GA Johnny Mercer Theatre
February 27, 2022 Macon, GA Macon City Auditorium
March 3 , 2022 Pensacola, FL Saenger Theatre
March 4, 2022 Birmingham, AL BJCC Concert Hall
March 5, 2022 Memphis, TN Orpheum Theatre Memphis
March 6, 2022 Evansville, IN Old National Events Plaza
March 10, 2022 Greensboro, NC Steven Tanger Center for the Performing Arts *^
March 11, 2022 Durham, NC Durham Performing Arts Center (DPAC) *^
March 12, 2022 Fayetteville, NC Crown Theatre at Crown Complex
March 13, 2022 Knoxville, TN Knoxville Civic Auditorium *^
March 24, 2022 Newark, NJ New Jersey Performing Arts Center
March 25, 2022 Worcester, MA The Hanover Theatre
March 26, 2022 Poughkeepsie, NY The Majed J. Nesheiwat Convention Center (MJN)
March 31, 2022 Brooklyn, NY Kings Theatre
April 1, 2022 Providence, RI Providence Performing Arts Center
April 2, 2022 Portland, ME Merrill Auditorium
April 3, 2022 Albany, NY Palace Theatre
April 7, 2022 Reading, PA Santander Arena
April 8, 2022 Baltimore, MD The Lyric
April 10, 2022 State College, PA Bryce Jordan Center
April 21, 2022 Nashville, TN Opry House
April 22, 2022 Nashville, TN Ryman Auditorium *^
April 23, 2022 Columbus, OH Palace Theatre
April 28, 2022 Grand Junction, CO Amphitheater at Las Colonias Park
April 29, 2022 Salt Lake City, UT Kingsbury Hall
April 30, 2022 Boise, ID Morrison Center
May 1, 2022 Spokane, WA First Interstate Center
May 7, 2022 Kansas City, MO Arvest Bank Theatre at The Midland
May 12, 2022 Midland, TX Wagner Noël Performing Arts Center
May 13, 2022 San Antonio, TX Majestic Theatre
May 14, 2022 Amarillo, TX Amarillo Civic Center Complex
May 15, 2022 Tulsa, OK The Tulsa Theater
View All News