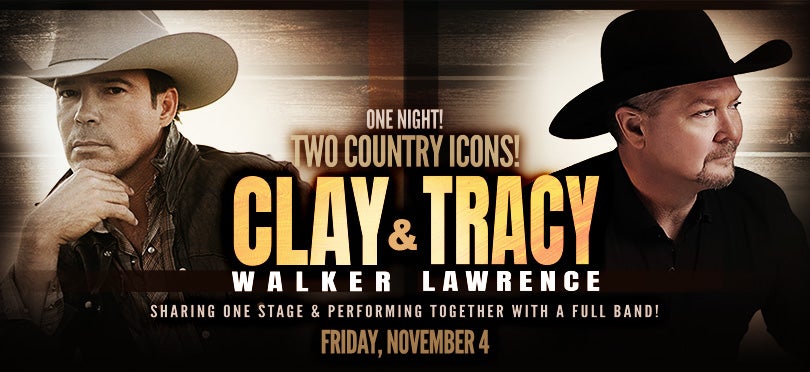 Jul 26, 2022
Clay Walker & Tracy Lawrence
Community Concerts is pleased to announce the second concert of the
87th Season on November 4th 2022!
(FAYETTEVILLE, JULY 26, 2022) – Join Us as Community Concerts Presents the 2nd Concert of the 87th season! One Night - Two Country Icons Performing Together On Stage with a full band!
Don't Miss Clay Walker & Tracy Lawrence
with special guest Alexandra Kay live @ the CROWN THEATRE
FRIDAY NOVEMBER 4TH 2022 in Fayetteville, NC!
Clay Walker and Tracy Lawrence are both favorites in the country music scene.
Clay Walker is known for smash singles, platinum albums, and countless honors and acclaim. Among his hits, country music fans will recognize "Live Until I Die," "Dreaming With My Eyes Open," "This Woman And This Man," "Hypnotize The Moon," "Rumor Has It," "Then What," "I Can't Sleep" and "She Won't Be Lonely Long." His self-titled debut album rocketed to platinum status, the first of four to cross the million-sold mark. Racking up more than 30 charted singles and 11 number 1's. With popular songs like his latest single, "Need A Bar Sometimes," already reaching almost 20 million on-demand and video streams, it's clear Clay Walker will keep putting out hits.
Tracy Lawrence is one of country music's truest traditionalists, and this year he is celebrating his 30th anniversary in the country music industry. His impressive catalog of timeless music has made Lawrence a mainstay in the genre, selling more than thirteen million albums and charting eighteen number one songs including, "Time Marches On," Paint Me a Birmingham," "Can't Break it to My Heart," and "Alibis."
In addition to being spectacular musical performers, Walker and Lawrence know the importance of giving back.
Diagnosed in 1996, Clay Walker has become a passionate advocate and fundraiser for others with the disease through his Band Against MS. Among his efforts are the annual Clay Walker Charity Classic at Pebble Beach. The most recent golf event raised $90,000 for Walker's charity.
Tracy Lawrence was honored by the Nashville chapter of the Association of Fundraising Professionals with "Philanthropist of The Year" for his nationally recognized annual MISSION: POSSIBLE Turkey Fry and Concert. The program has raised over half a million dollars for the homeless and hungry in Dallas, Louisville and Nashville, and served more than 84,000 meals.
You don't want to miss these two talented singers performing together at the Crown Theatre as a part of the Community Concert series. This concert is part of the 87th annual Community Concerts lineup which will also feature Earth, Wind, and Fire at the Crown Theatre. The program was started 1935, and is Fayetteville's oldest art organization. It is an all-volunteer, non-profit whose goal is to bring the finest in top-notch entertainment to Fayetteville. The Crown Complex is proud to partner with Community Concerts in this mission. Community Concerts provides free concert opportunities to groups ranging from children to deserving seniors. In recent seasons, these have included the Vision Resource Center, Urban Ministry, The Sunshine Center, members of local fire and police departments, high school theater art classes, members of our military, and many more.
Tickets on sale NOW @ ticketmaster.com
Sign up to be a Crown Insider to have exclusive access to pre-sales and discounts on upcoming shows!
View All News