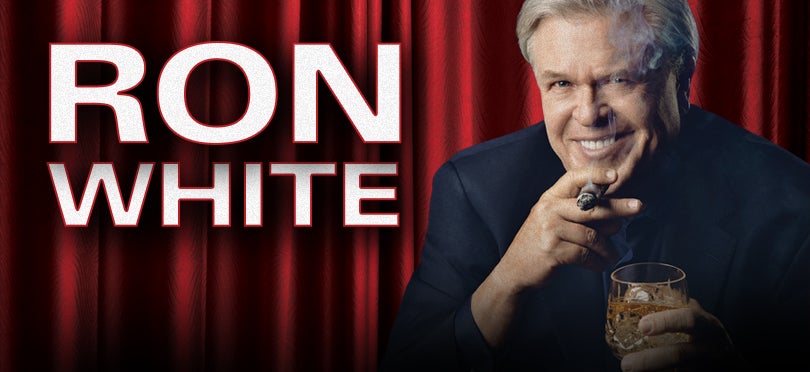 Oct 8, 2018
Comedian Ron White to Play the Crown Theatre
Comedian Ron White, who first rose to fame as the cigar-smoking, scotch-drinking funnyman from the Blue Collar Comedy Tour phenomenon, will play the Crown Theatre on May 10, 2019.
Tickets go on sale Friday, October 12 at 10 a.m. and can be purchased online at CapeFearTix.com, by phone at 888-257-6208, and in person at the Crown Complex Box Office & Leisure Travel Office located on Fort Bragg.
Touring nearly nonstop since the Blue Collar days, Ron "Tater Salad" White has long since established himself as a star in his own right. Over the past 15 years, White has been one of the top grossing stand-up comedians on tour in the country. His comedy recordings have sold over 14 million units (solo and with the Blue Collar Comedy Tour), he's been nominated for two Grammys, he was featured in the Cameron Crowe Showtime Series, "Roadies," and he even authored a book that appeared on the New York Times Best Seller List.
VIP experiences are available! VIP purchasers can get access to premium seats, a special Q&A session and photo with Ron White as well as a signed VIP access pass, a bonus DVD and a CD from his singer-songwriter wife, Margo Rey.
---
About Spectra
Spectra is an industry leader in hosting and entertainment, partnering with clients to create memorable experiences for millions of visitors every year. Spectra's unmatched blend of integrated services delivers incremental value for clients through several primary areas of expertise: Venue Management, Food Services & Hospitality, and Partnerships. Learn more at SpectraExperiences.com. Follow Spectra on Facebook, Instagram, Twitter and LinkedIn.
About Spectra Venue Management
Spectra's Venue Management division is the industry leader across a full range of services that impact the bottom-line success of public assembly venues, including marketing and sales, corporate partnerships, event booking, ticket services and box office management, customer service, operations and engineering and finance and administration.
View All News