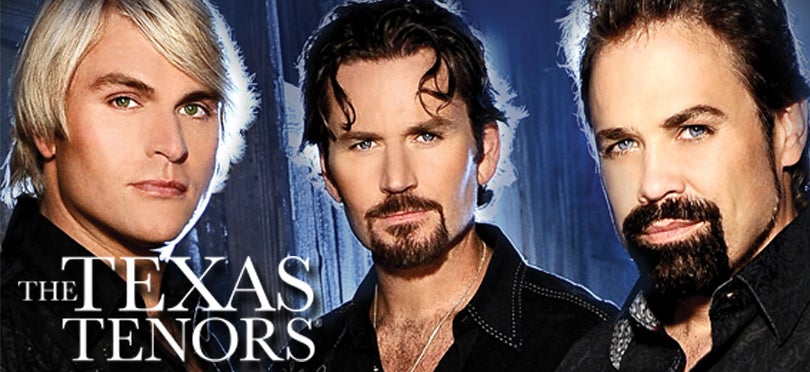 Dec 4, 2019
Community Concerts brings the Texas Tenors to Fayetteville!
Fayetteville, NC (December 6, 2019) – The Texas Tenors are the most successful music group in the history of America's Got Talent and Community Concerts will be bringing this group to Fayetteville on Friday, February 14. These classically-trained, versatile tenors have performed more than 1300 concerts around the world and will provide a performance of a lifetime at the Crown Theatre.
Tickets are on sale now and can be purchased online at CapeFearTix.com, by phone at (888) 257-6208, in-person at the Crown Complex Box Office or at Leisure Travel Services on Fort Bragg.
Since appearing on the show in 2009, JC, Marcus and John have released 4 studio albums, 2 PBS Specials, 4 DVDs, multiple singles and a children's book that have earned them impressive recognition including 3 Emmy Awards, The Gelett Burgess Award for Excellence in Children's Literature and the distinction of being Billboard Magazine's 2017 #10 Classical Crossover Artist in the World. Their most recent albums "Rise" and "A Collection of Broadway and American Classics" both debuted at #1 on the Billboard Classical Chart.
With three different live concerts "Rise: Live on Tour", rousingly patriotic "Let Freedom Sing" and holiday favorite "Deep in the Heart of Christmas", their concerts appeal to all ages and have been wildly successful from performing arts centers, casinos and symphony halls to outdoor festivals and corporate events. In addition to collaborations with some of the most prestigious symphonies in the world including the Houston Symphony, Pittsburgh Symphony and The City of Prague Orchestra, The Texas Tenors have performed at The White House National Tree Lighting, Congressional Medal of Honor Ceremonies, numerous charity events, NBA games and The PBR World Finals in Las Vegas.
The Texas Tenors are celebrating 10 years together by launching their "10th Anniversary Tour." Earlier this year, they were honored to be included among the top 50 acts in the world and the only vocal group from the United States invited to compete on NBC's primetime series America's Got Talent: The Champions.
View All News