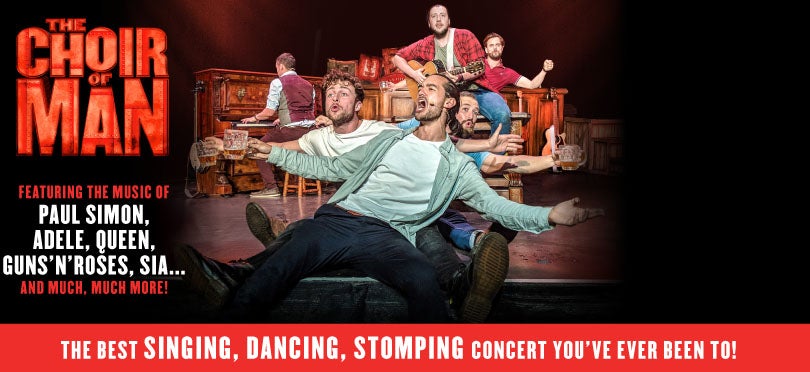 Aug 24, 2018
Community Concerts Presents: The Choir of Man
Fayetteville, NC (August 23, 2018) – Community Concerts' 83rd season presents The Choir of Man as a part of their inaugural North American tour! This worldwide smash, and runaway hit of numerous music festivals, will have you on your feet as it takes the stage on Wednesday, October 10 at the Crown Theatre.
Tickets will go on sale on August 31 at 10 a.m. and a full lineup for the Community Concerts' 83rd season will be announced in the coming months. Tickets will be available online at CapeFearTix.com, by phone at 888-257-6208, and in person at the Crown Complex Box Office & Leisure Travel Office located on Fort Bragg. For more information on Community Concerts and to purchase season tickets, please visit community-concerts.com or call 910-303-3996.
Known across the globe as "the ultimate-feel good show," THE CHOIR OF MAN offers up 90 minutes of indisputable joy. It's a party. It's a concert. It's a pint-filled good time set in a real working pub that combines hair-raising harmonies, high-energy dance, and live percussion with foot-stomping choreography. The multi-talented cast of nine handsome blokes sings everything – pub tunes, folk, Broadway, classic rock – all to roof-raising heights. It's the best singing, dancing, stomping, pub crawl of a show you'll ever attend!
One of the show's producers, Nic Doodson states, "The guys have spent the last couple of years touring the UK and Australia and they are ready to bring this show to American audiences! This concert is such a great time for all – whether it's a ladies' night, first date, guys' night out or even a bachelorette party! So, grab your best mates and we'll see you at the venue…the first pint is on us (seriously!)"
Imagine the greatest pub gig you've ever been to, multiply it by ten, and you'll still be nowhere near the fun that this show exudes throughout. The show celebrates music that has wide appeal including songs by Adele, Queen, Paul Simon, Katy Perry, Red Hot Chili Peppers and more. The cast features world-class tap dancers, acrobats, singers, instrumentalists and poets, ensuring that there is something for everyone in this joyous and uplifting show for all ages.
THE CHOIR OF MAN is the latest show from the creative minds of Nic Doodson and Andrew Kay – the team behind Soweto Gospel Choir, The Magnets, and the award-winning North by Northwest.
"A feast for the senses, Choir of Man will have you dancing down the aisles. Leave your worries in your coat and grab a pint!" – Broadway Baby
For more information, please visit www.choirofman.com. Follows the guys on Facebook (/thechoirofman), Twitter (@choirofman) and Instagram (@choirofman).
---
About Community Concerts
Community Concerts is a volunteer, non-profit arts organization working to make Fayetteville better, one concert at a time. Fayetteville's oldest non-profit arts organization, Community Concerts works diligently to bring Fayetteville the finest in world-class entertainment while keeping prices affordable to all. For more information and to purchase season tickets, please visit community-concerts.com or call 910-303-3996.
About Spectra
Spectra is an industry leader in hosting and entertainment, partnering with clients to create memorable experiences for millions of visitors every year. Spectra's unmatched blend of integrated services delivers incremental value for clients through several primary areas of expertise: Venue Management, Food Services & Hospitality, and Partnerships. Learn more at SpectraExperiences.com. Follow Spectra on Facebook, Instagram, Twitter and LinkedIn.
About Spectra Venue Management
Spectra's Venue Management division is the industry leader across a full range of services that impact the bottom-line success of public assembly venues, including marketing and sales, corporate partnerships, event booking, ticket services and box office management, customer service, operations and engineering and finance and administration.
View All News