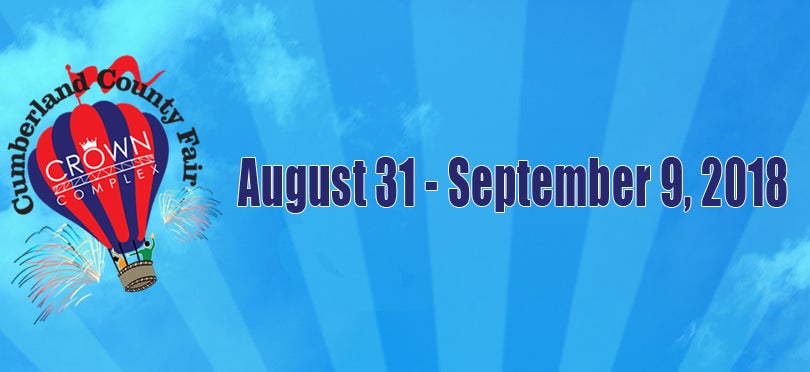 Aug 1, 2018
Cumberland County Fair Returns 8/31-9/9
The biggest and best fair in the Carolinas is back! The Cumberland County Fair returns to the Crown Complex August 31 – September 9 with more excitement and fun than ever. Fairgoers can expect ten days of fun, family entertainment, food, state-of-the-art amusement rides, animals & more! A full entertainment schedule is available now at cumberlandcountyfair.org (subject to change).
Tickets to the 28th Annual Cumberland County Fair will go on sale to the public August 1 at 10:00 a.m. online at CapeFearTix.com, by phone at 1-888-257-6208 and in person at the Crown Complex Box Office and the Leisure Travel & Ticket Office located on Fort Bragg.
"We're proud to be working again with Big Rock Entertainment which is, bar none, the best in fair entertainment there is," said Cumberland County Fair Manager Hubert Bullard. "We want the latest and the greatest for our fair, and that's why we continue to work with Big Rock Entertainment." Big Rock currently partners with Wilson, Lumberton and Sanford fairs in North Carolina. For more information on Big Rock Amusements, please visit www.bigrockamusements.com.
The 2018 Schedule for the Cumberland County Fair is as follows:
Friday, August 31: Opening Night – Free Admission. Unlimited ride wristbands and ride tickets sold separately.
Saturday, September 1: Up & Coming Weekly Coloring Contest -- $2.00 off Admission ticket with student ID or Kidsville News art
Sunday, September 2: STAY-CATION Student Night! $4.00 off Admission ticket with valid Student ID
Monday, September 3: Early Bird Pay One Price Night -- $10 Admission and Unlimited Ride Wristband (1 p.m. – 5 p.m.) $15 Admission and Unlimited Ride Wristband after 5 p.m.
Tuesday, September 4 - Thursday, September 6: Pay One Price Night -- $15 Admission and Unlimited Ride Wristband
Thursday, September 6: Senior Expo at the Fair – Free Admission for senior citizens from 1 - 5 p.m.
Friday, September 7: Military and Emergency Services Appreciation Night/Law Enforcement/Firefighters. Free Fair Admission ticket with valid ID card or uniform
Sunday, September 9: Faith & Family Night - $2 off Admission ticket with a church bulletin from 1 – 3 p.m. (1 bulletin per person) Regular price after 3 p.m.
Vendor applications are being accepted. Vendors from a variety of businesses and organizations both local and regional are invited to participate in this ten day event. Those wishing to participate in the 2018 Cumberland County Fair must complete the vendor application located on the Fair's official website, www.CumberlandCountyFair.org.
Vendors should submit completed applications to:
ATTN: Cumberland County Fair
P.O. Box 64217
Fayetteville, NC 28306
With the return of the Fair comes the return of the Senior Expo, which will take place Thursday, September 6 from 1 – 4 pm inside the Crown Coliseum. Patrons interested in participating should visit the www.CumberlandCountyFair.org for more information. Make sure to follow the Cumberland County Fair on Facebook and Twitter @CCFairNC.
---
ABOUT CUMBERLAND COUNTY FAIR:
The Cumberland County Fair seeks to provide an opportunity to showcase and preserve the history and legacy of the agricultural communities in Cumberland County; to celebrate the diversity of local arts and crafts; to promote a safe setting for fun, healthy family entertainment featuring music, state of the art amusement rides, motorsports and animals; and to encourage an environment of friendly competition for all ages.
---

About Spectra
Spectra is an industry leader in hosting and entertainment, partnering with clients to create memorable experiences for millions of visitors every year. Spectra's unmatched blend of integrated services delivers incremental value for clients through several primary areas of expertise: Venue Management, Food Services & Hospitality, and Partnerships. Learn more at SpectraExperiences.com. Follow Spectra on Facebook, Instagram, Twitter and LinkedIn.
About Spectra Venue Management
Spectra's Venue Management division is the industry leader across a full range of services that impact the bottom-line success of public assembly venues, including marketing and sales, corporate partnerships, event booking, ticket services and box office management, customer service, operations and engineering and finance and administration.
View All News