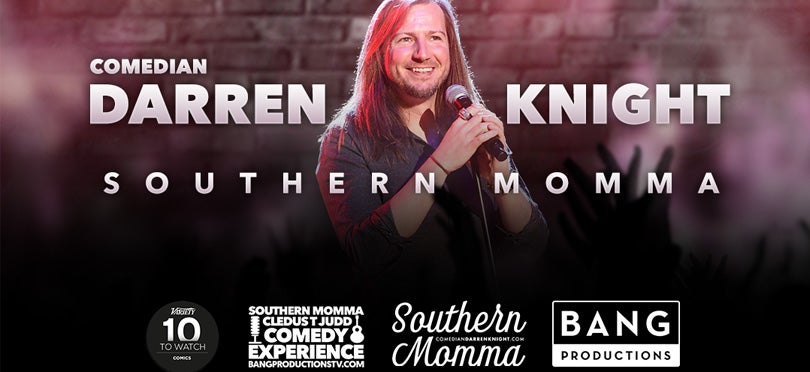 Sep 6, 2019
Darren Knight's Southern Momma An Em Comedy Show Live!
Bang Productions presents Darren Knight's Southern Momma An Em Comedy Show! Produced by John Edmonds Kozma featuring Comedians Red Squirrel and Gary Cargal with DJ Slim McGraw, this comedy special will be live at the Crown Theatre on Saturday, December 7.
Darren Knight, aka Southern Momma from Munford, Alabama, is the fastest rising comedian in American history. In just a few short months, he has cultivated a massive online presence, accumulating over a half a billion views across multiple social media platforms. Darren takes his persona to the stage, selling out theatres and casinos nationwide. He's been compared to Jeff Foxworthy, as the next star of redneck comedy.
Dee Jay Slim McGraw bred on music that's slow roasted and deep fried like his Southern roots! Slim McGraw has opened for Brett Eldredge, Lee Brice, Randy Houser, Dylan Scott, and shared the stage with The Chainsmokers, Calvin Harris, Nelly, Flo Rida among others. When in Nashville you can find him on Broadway playing at Jason Aldean's Rooftop Bar, Luke Bryan's 32 Bridge and Florida Georgia Line's FGL House. Back home in Charlotte, the non-stop DJ is a resident at Whisky River owned by NASCAR legend Dale Earnhardt, Jr. He recently was honored to perform at Dale Jr's retirement party with Kid Rock, Cole Swindell & Billy Currington.
View All News