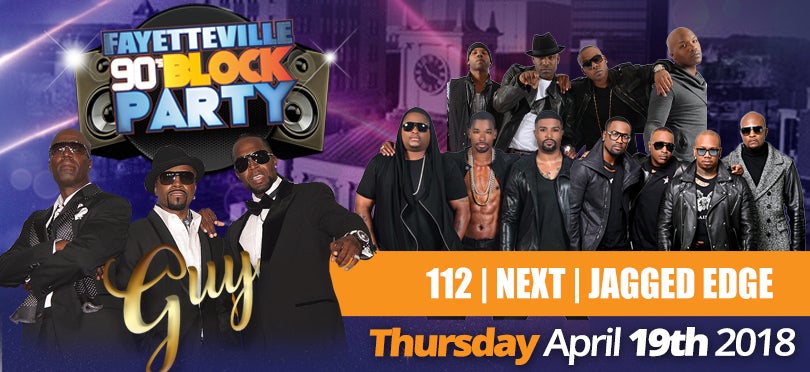 Apr 17, 2018
Fayetteville 90s Block Party Cancelled
FOR IMMEDIATE RELEASE:
FAYETTEVILLE TOUR STOP WITH SPECIAL GUESTS GUY FEAT. TEDDY RILEY, JAGGED EDGE, 112 AND NEXT AT CROWN COLISEUM CANCELLED
Fayetteville, NC (April 16, 2018) – Due to tour conflicts beyond our control, the 90s Block Party tour scheduled for Thursday, April 19 has been cancelled, per a representative of G-Squared events.
All refunds will be made at point of purchase. Patrons who purchased tickets with a credit card, inclusive of those purchased at Fort Bragg Leisure Travel Services, will be automatically refunded and will see their money back in their account within 5-7 business days. Any patron who purchased with cash will need to bring their valid tickets and photo ID to the Crown Coliseum Box Office during business hours to obtain their refund. Cape Fear Valley Health employees who purchased via payroll deduction may come to the Crown Complex Box Office with a photo ID to receive a cash refund on or after April 17.
For more information regarding ticket refunds, please call the Crown Complex ticketing hotline at 1-888-257-6208.
---
About G-Squared Events
G-Squared Events is a national touring company based out of Houston, TX, specializing in live entertainment. G-Squared Events is best known for bringing high-quality production events with some of the nation's biggest entertainers including Charlie Wilson, Tyrese, Steve Harvey, Keith Sweat and Brian McKnight. For additional information, visit http://www.gsquaredevents.com.
---
About Spectra
Spectra by Comcast Spectacor is an industry leader in hosting and entertainment, partnering with clients to create memorable experiences for millions of visitors every year. Spectra's unmatched blend of integrated services delivers incremental value for clients through several primary areas of expertise: Venue Management, Food Services & Hospitality, and Partnerships. Learn more at SpectraExperiences.com.
View All News