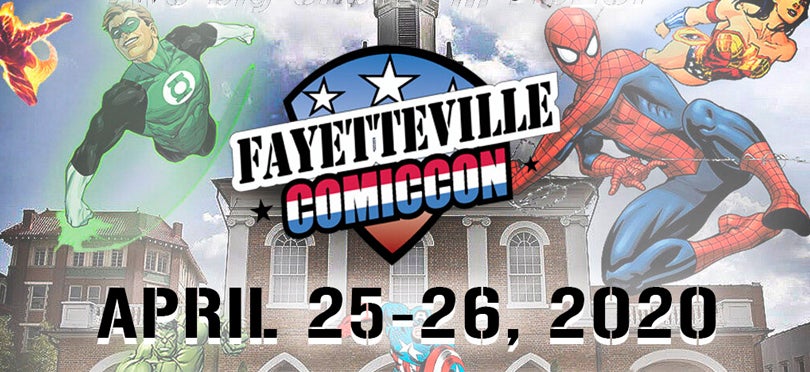 Nov 29, 2019
Fayetteville Comic Con Returns This Spring!
For first time, Fayetteville Comic Con will be hosted in the spring at the Crown Expo! From Saturday, April 25 - Sunday, April 26, Comic Con will once again bring a welcoming and family friendly atmosphere that celebrates all fans of World Popular Culture. If you like comics, cosplay, gaming, cartoons, anime, music, collectible toys or anime, you'll fit right in!
Tickets are on sale now and can be purchased online at www.CapeFearTix.com, by phone at 888-257-6208, and in person at the Crown Complex Box Office and the Leisure Travel Ticket Office located on Fort Bragg.
During the remainder of 2019, there will be a $2 discount on all weekend passes! We encourage coming early and also buying tickets in advance to avoid lines the day of the show and a possible sellout.
Our con will feature special guests from the world of comics and popular culture; Marvel, DC, IDW and other publishers; voice actors from cartoons and anime, Walkers, Rangers, Jedi and more. DJ Clash from Winston Salem will also be in attendance, with some special guest helping explore the ties between Hip Hop and Comics! If it's geek, we got it!
Our Cosplay guests are the most talented around and our Cosplay Contest is AMAZING! Did we forget to mention Speed Dating, Nerd Slams, Cosplay Lip Sync and Drop the Mic? What about Ninjas, Knights and Aerialists? Maybe its fan run panels that excite you? Or behind the scene looks at the world of comic and anime creators, from artists to actors? We are the most interactive pop culture convention in the southeast, and we are growing even bigger! This is a Comic Con that you will not want to miss.
View All News