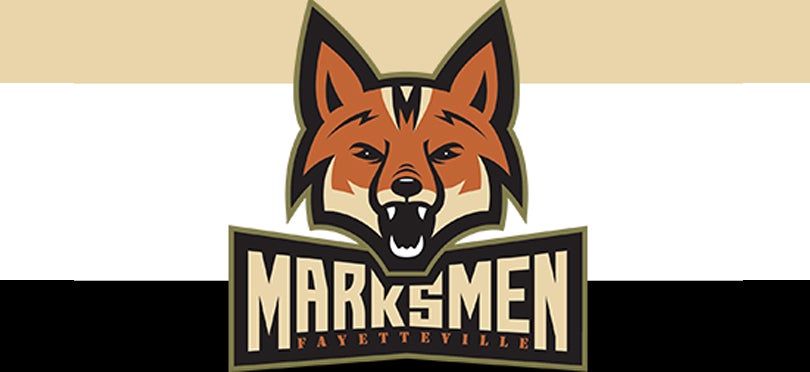 May 16, 2017
FAYETTEVILLE FIREANTZ REBRAND, BECOME MARKSMEN
"This is an opportunity of a lifetime. To not only own a professional hockey team, but to provide the people of Fayetteville a real community asset," owner Chuck Norris noted. "And we wanted a name that paid homage to the history of this town, and Fort Bragg, which is home to many of the elite fighting soldiers in the world."
The logo, which features a Carolina Red Fox with an "M" in his forehead above the blocked words "Marksmen" also carries significance to the team, and the community of Fayetteville.
"The fox identifies with the Marksmen, as it is indigenous to the area, but is also wild, cagy, and ferocious-characteristics showcased on the ice. And, much like the team, the fox exhibits a softer, cuddly side for kids, school events, and non-profit atmospheres," team President Jeff Longo said. "With the community involvement, our mascot will be a role model for kids in Fayetteville, and help bring attention to fundraising initiatives and provide entertainment at every game."
The move has been well received by those with information of the change prior to Friday's announcement, including SPHL Commissioner, Jim Combs.
"While we are respectful of the work of Howard Bullard, we are excited that Chuck is looking to grow hockey in Fayetteville, while paying homage to the military history of the region, and carrying on the great tradition of the Fireantz," said Combs.
"Combined with the experiences of Jeff, the on-ice product will prove to be an exciting environment for the fans of Fayetteville and the SPHL," Combs added.
The Marksmen will showcase their new jerseys and mascot later this summer. Be sure to stay tuned to Marksmen on Facebook, Twitter, Instagram, Snapchat, and online at www.Marksmenhockey.com.
For media inquiries, contact Ben Garrod at 910.438.4169 or via email at bgarrod@marksmenhockey.com.
View All News