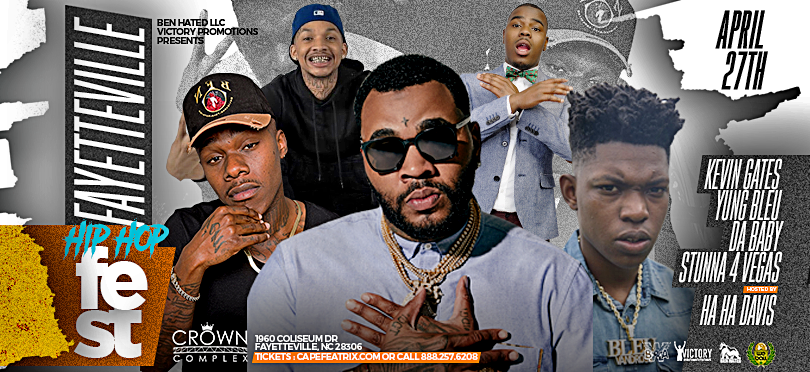 Feb 4, 2019
Fayetteville Hip Hop Fest feat. Kevin Gates & Friends to Return
Fayetteville Hip Hop Fest featuring Kevin Gates and Friends to Return to Fayetteville April 27
Fayetteville, NC (February 4, 2019) – Multi-platinum selling artist Kevin Gates is coming to the Crown Coliseum on Saturday, April 27 to headline the second Fayetteville Hip Hop Festival. He will be performing live along with supporting artists Yung Bleu, Da Baby and Stunna 4 Vegas. Victory Promotions and Ben Hated, LLC. brought the first-ever Fayetteville Hip Hop Festival to the Crown Complex in November 2018.
Tickets are on sale now and can be purchased online at CapeFearTix.com, by phone at 888-257-6208, and in person at the Crown Complex Box Office & Leisure Travel Services located on Fort Bragg.
About Victory Promotions and BenHated, LLC
Victory Promotions, retired military personnel and BenHated, LLC. Security and Asset Protection agency owner has partnered to bring some of the best universal entertainment to the USA. Based in Columbus, SC, they have done numerous events throughout the Southeast, Northeast and Midwest. Past events include: American Dream Car & Bike Show and Concert (Plies, Jeezy and Rick Ross), Food Truck and Beer Festival, Anthony Hamilton and Chrisette Michelle, Step Into Wellness StepShow, Spring fest 2k17 (Migos, Jaquees, and YFN Lucci), Nephew Tommy, R. Kelly with Monica/Vivian Green major cities and more!
About Spectra
Spectra is an industry leader in hosting and entertainment, partnering with clients to create memorable experiences for millions of visitors every year. Spectra's unmatched blend of integrated services delivers incremental value for clients through several primary areas of expertise: Venue Management, Food Services & Hospitality, and Partnerships. Learn more at SpectraExperiences.com. Follow Spectra on Facebook, Instagram, Twitter and LinkedIn.
About Spectra Venue Management
Spectra's Venue Management division is the industry leader across a full range of services that impact the bottom-line success of public assembly venues, including marketing and sales, corporate partnerships, event booking, ticket services and box office management, customer service, operations and engineering and finance and administration.
View All News