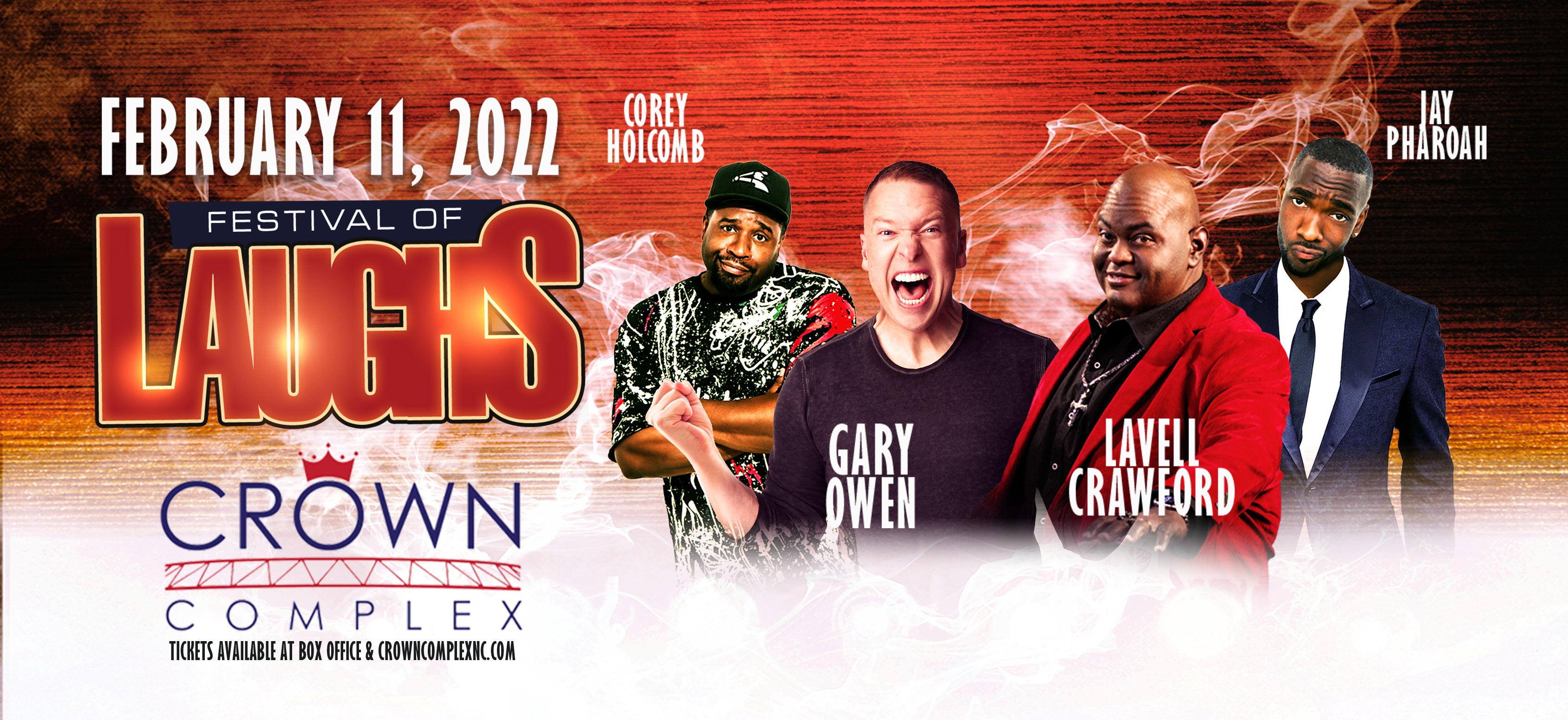 Nov 29, 2021
Festival of Laughs
The Festival of Laughs featuring Gary Owen, Lavell Crawford, Corey Holcomb and Jay Pharoah is coming to Crown Arena in Fayetteville at 8 p.m. on February 11. Tickets go on sale 10 a.m. on Dec. 3 at the Crown Complex Box Office, Leisure Travel Services on Fort Bragg and CapeFearTix.com. The all-star lineup will be sure to deliver side-busting, non-stop laughter for a memorable night of comedy!
The Festival of Laughs Tour is presented by North American Entertainment Group Inc., one of the leading independent promoters of entertainment tours and live events in the United States.
SHOW DETAILS
Date: Friday, February 11, 2022
Showtime: 8:00 p.m.
Venue: Crown Arena, 1960 Coliseum Dr, Fayetteville, NC 28306
Lineup: Gary Owen, Lavell Crawford, Corey Holcomb, Jay Pharoah
Prices: $59, $75, $99, $125
Purchase: Available to purchase at CrownComplexNC.com
---

ABOUT GARY OWEN
Having performed to sold-out audiences in all the major comedy clubs and theatres across the country, Gary Owen is one of America's most beloved comedians, having been proclaimed by Ebony magazine as Black America's "Favorite White Comedian." Audiences can see Owen in his most recent comedy special, "I Got My Associates" currently on Showtime. Film credits include "Meet The Blacks," "Think Like A Man," "Think Like A Man Too," "Ride Along," "Little Man," "Daddy Day Care," and "College."

Website: www.garyowen.com
Facebook: @GaryOwen
Twitter: @garyowencomedy
Instagram: @garyowencomedy

ABOUT LAVELL CRAWFORD
Lavell Crawford is quickly climbing the comedic ranks and becoming one of the hottest stars in the biz today. Lavell first gained national exposure on NBC's hit reality series "Last Comic Standing." His television appearances include "Workaholics" (Comedy Central), "Breaking Bad" (AMC), and "Chelsea Lately" (E! Entertainment), "Shaquille O'Neal Presents: All Star Comedy Jam" (Showtime) and "Comic View" (BET), to name a few.

Website: www.comedianlavellcrawford.com
Facebook: @lavell.crawford.52
Twitter: @Lavellthacomic
Instagram: @lavellsthacomic
ABOUT COREY HOLCOMB
Going from hanging in the hood to performing comedy on Jay Leno's "Tonight Show," not to mention the privilege of afterward being invited to take a seat on the "couch" which not many comics are asked to do, has been a long and fulfilling journey. Corey hit his first open mic in 1992 when Adele Givens called him to the stage. He was a smashing success and has been a full-time comedian ever since. Corey was a regular personality on Jamie Foxx's satellite radio channel The Foxxhole from 2007 to 2011. He currently hosts his own internet radio program, The Corey Holcomb 5150 Show, which began on satellite on The Foxxhole but later moved to CoreyHolcomb.com. Corey is currently bringing funny to the big screen with his roles in the movies "Think Like A Man Too," "Wedding Ringer" and Adult Swim's TV series "Black Jesus."

Website: www.coreyholcomb.com
Facebook: @CoreyHolcombFan
Instagram: @coreyholcombfan
ABOUT JAY PHAROAH
Jay Pharoah is an actor and stand-up comedian. With six seasons as a cast member of NBC's "Saturday Night Live," Pharoah is best known for his wide array of uncanny celebrity impressions, including President Barack Obama, Will Smith, Denzel Washington, Stephen A. Smith, Kanye West and Chris Tucker, as well as his recurring character, school principal Daniel Frye. Currently, Pharoah stars in the Showtime series "White Famous." In film, he appears opposite Claire Foy and Juno Temple in Steven Soderbergh's "Unsane." Additionally, he just wrapped shooting for the comedy "#TwoMinutesofFame." Last year, Pharoah voiced a role in the animated movie "Sing" alongside Matthew McConaughey, Scarlett Johansson and Reese Witherspoon. Pharoah's past filmography includes supporting roles in "Get a Job," "Top Five," "Ride Along," "Intramural" and "Lola Versus." He has voiced various roles in the animated TV series "Family Guy," "BoJack Horseman," "Legends of the Chamberlain Heights," "Robot Chicken" and the upcoming "SuperMansion." In the world of stand-up, he headlines comedy clubs across the country throughout the year.

Website: www.jaypharoahworld.com
Facebook: @JayPharoahReal
Twitter: @jaypharoah
Instagram: @jaypharoah
View All News