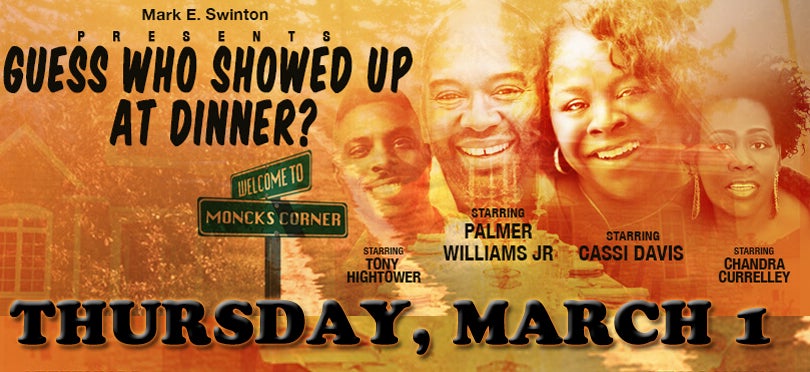 Feb 6, 2018
Guess Who Showed Up at Dinner Live At the Crown Theatre
Fayetteville, NC (January 19, 2018) – The wildly funny stageplay, Guess Who Showed Up At Dinner is coming to the Crown Theatre Thursday, March 1 2018 at 7:30 p.m.
Tickets are on sale now and can be purchased online at CapeFearTix.com, by phone at (888) 257-6208, in-person at the Crown Complex Box Office or at the Leisure Travel Office on Fort Bragg.
This production is the hilarious tale of Sugarbread Robinson, a quirky musician who decides to journey to his roots in the Deep South to find inspiration for his new music project. He finds more than inspiration! With his best friend Ronald alongside, Sugarbread journeys on a long road trip cross country from Los Angeles to the backwoods of a small South Carolina town – Moncks Corner! With a little more than a dream and a prayer, the two misfits hope that some time away spent with family may allow their muse to appear, helping them to realize their dreams of stardom.
About Palmer Williams Jr
Palmer Williams Jr is an accomplished entertainer, comedian, director, writer and actor best known for portraying the character Floyd Jackson on Tyler Perry's TV shows House of Payne and Love Thy Neighbor. His movie career includes Tyler Perry's The Haves and The Have Not's, Madea's Big Happy Family; Laugh to Keep from Crying and Robert Townsend's Play House 22 – to name a few. Palmer is married and the proud father of four children. He is a native of Camden, Alabama and a graduate of Knoxville College with a B.S. in Health and Hospital Administration.
About Cassi Davis:
Cassi Davis can be seen each week on WTBS in Tyler Perry's House of Payne. Hailing from the booming metropolis of Holly Springs, MS. Cassi Brings to the audience a wealth of personality, an amazing flight of energy and a turn of wit that is like no other. In 2004, she was named "Best Supporting Actress" by the NAACP Theatre Award Committee. Ms. Davis is a 2-time NAACP Image Award Nominee. Cassi dedicates her performances to God Almighty, the giver of the gift, her mother and father, the ones who never let her forget, Mr. Tyler Perry and to all who supports her.
---
About Spectra
Spectra by Comcast Spectacor is an industry leader in hosting and entertainment, partnering with clients to create memorable experiences for millions of visitors every year. Spectra's unmatched blend of integrated services delivers incremental value for clients through several primary areas of expertise: Venue Management, Food Services & Hospitality, and Partnerships. Learn more at SpectraExperiences.com.
About Comcast Spectacor
Comcast Spectacor is part of Comcast Corporation, a global media and technology company that operates Comcast Cable and NBCUniversal. Comcast Spectacor's three core businesses are the National Hockey League's Philadelphia Flyers, the Wells Fargo Center Complex, and Spectra, a hosting and entertainment firm specializing in Venue Management, Food Services & Hospitality, and Partnerships. Learn more at ComcastSpectacor.com.
View All News