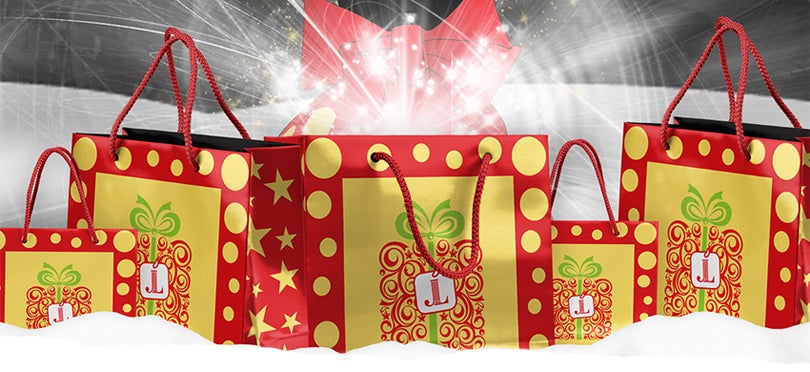 Aug 26, 2016
Holly Day Fair Returns for 50th Anniversary November 3 - 6
The Holly Day Fair, the largest holiday gift and craft show in Eastern North Carolina, will celebrate its 50th year November 3 – 6 at the Crown Expo Center in Fayetteville. Hosted by the Junior League of Fayetteville and presented by Carolina Pottery, the Holly Day Fair is a one-stop holiday shopping event that draws an average of 21,000 attendees and over 200 vendors. Show-goers have an extensive selection of unique handcrafted and manufactured products to select from including the best in holiday decorations, handmade crafts, stylish jewelry and clothes, children's toys, specialty food items and much more.
Holly Day Fair kicks off November 3 from 9:00 a.m. to noon only for Super Shoppers and will be open from 12:00 p.m. – 8:00 p.m. for general admission ticket holders. Super Shopper tickets can be purchased for $14 and are limited. Strollers and any type of rolling carts are strictly prohibited during Super Shopper hours. General admission tickets for November 3 – 6 are $9. All tickets include free parking. Children five years and under are free. Tickets may be purchased online at CapeFearTix.com, the Crown Complex Box Office and all Junior League ticket outlets or by phone at 1-888-257-6208. Additional fees may apply.
"As we look towards our golden anniversary, we are reminded of each decade of this fantastic event," said Jami McLaughlin, 2016 Holly Day Fair Chair, "We hope the entire community comes out to celebrate this banner year as we look back towards the first years at St. John's Episcopal Church, the expansion to the YMCA and the Crown Expo Center and look forward to future years of this wonderful shopping occasion."
The Holly Day Fair serves as the Junior League of Fayetteville's sole fundraiser with all funds going directly back into the local community.
"Our 50th anniversary is a major milestone, not only for our event, but also for our community," said Meleaha Kimrey, Junior League of Fayetteville President, "This signifies fifty years of giving back millions of dollars raised for the children in Fayetteville and surrounding areas to ensure that they have the opportunity and services essential to thrive."
Holly Day Fair hours are as follows:
Thursday, November 3
Super Shopper: 9:00 a.m. – 12:00 p.m.
General Admission: 12:00 p.m. – 8:00 p.m.
Friday, November 4
General Admission: 9:00 a.m. to 8:00 p.m.
Saturday, November 5
General Admission: 9:00 a.m. to 8:00 p.m.
Sunday, November 6:
General Admission: 11:00 a.m. - 5:00 p.m.
About the Junior League of Fayetteville
The Junior League of Fayetteville, Inc. is an organization of women committed to promoting voluntarism, developing the potential of women, and improving the community through the effective action and leadership of trained volunteers. Its purpose is exclusively educational and charitable. The Junior League of Fayetteville, Inc. reaches out to women of all races, religions, and national origins who demonstrate an interested in and commitment to voluntarism.
View All News