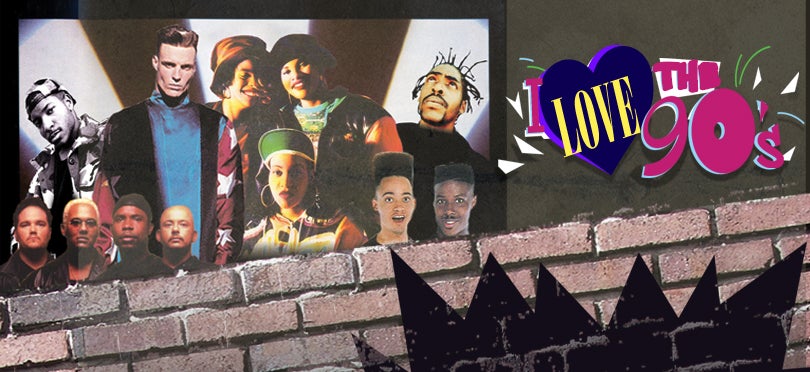 Mar 21, 2016
I Love the 90s feat. Vanilla Ice, Salt-N-Pepa with Spinderella & more live!
Fayetteville is going old school on Friday, July 15. Spectra Presents announced today that they will be bringing I Love the 90s to the Crown Coliseum Friday, July 15. Vanilla Ice and Salt-N-Pepa with Spinderella are slated to headline the night and will be joined on stage by special guests Kid N Play, All 4 One, Coolio and Young MC.
Ticket prices start at $33 and go on sale this Friday, March 25 online at CapeFearTix.com, by phone at 1-888-257-6208 and in person at the Crown Complex Box Office. Tickets are also available at the Leisure Travel and Ticket Office located on Fort Bragg.
Deidra "Dee Dee" Roper, also known as "DJ Spinderella", Cheryl "Salt" James and Sandra "Pepa" Denton make up the hip-hop trio, Salt-N-Pepa. The group released several successful albums in the late 1980s and 1990s, including A Salt with a Deadly Pepa and Blacks' Magic, which provided such hits as "Let's Talk About Sex" (1990), "Shoop" (1993) and "Whatta Man" (1993). As the first-ever female rap crew, Salt-N-Pepa broke barriers and opened doors that were once closed to women in hip-hop. With hit after hit, Salt-N-Pepa would defy everyone's expectations and catapult hip-hop to new levels.
The iconic Robert Van Winkle, also known as Vanilla Ice, exploded on the rap/pop music scene in 1990 selling 10 million albums in four months and hitting Number One on the Billboard charts with the classic single, "Ice Ice Baby." His worldwide album sales are over 15 million and individual song sales total over 160 million.
About Spectra by Comcast Spectacor
Spectra by Comcast Spectacor are the expert in hosting and entertainment, partnering with over 300 clients at 400 global properties to create memorable experiences for millions of visitors every year. Spectra's expertise is embodied within three divisions: Venue Management (formerly Global Spectrum), Food Services & Hospitality (formerly Ovations Food Services) and Ticketing & Fan Engagement (formerly Paciolan). Learn more at SpectraExperiences.com.
Comcast Spectacor is part of Comcast Corporation, a Fortune 50 media and technology company that operates Comcast Cable and NBCUniversal. Headquartered in Philadelphia, Pa., In addition to Spectra, Comcast Spectacor owns and operates the National Hockey League's Philadelphia Flyers and the Wells Fargo Center venue. Visit us at ComcastSpectacor.com, PhiladelphiaFlyers.com and WellsFargoCenterPhilly.com for more information.
View All News