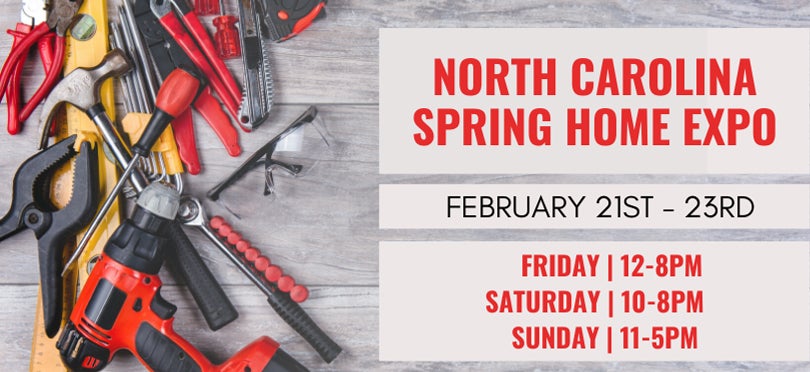 Dec 11, 2019
North Carolina Spring Home Expo to be hosted at the Crown Expo this February
The inaugural North Carolina Spring Home Expo will be hosted at the Crown Expo from Friday, February 21 – Sunday, February 23. This event will showcase everything from kitchen & bath remodels, interior design, and exteriors to home furniture, bedding and much more! Local and national experts will help homeowners find just what they need to complete their home projects, inside and out. Join us as we bring over 100 companies under one roof!
Tickets are on sale now and can be purchased online at CapeFearTix.com, by phone at 888-257-6208, and in person at the Crown Complex Box Office & Leisure Travel Services located on Fort Bragg.
The North Carolina Spring Home Expo will have window, door, siding, and exterior companies, such as Window & Door Specialties and Window World, to make sure that your home is properly sealed for spring weather. Their commitment is to provide quality servicing and products that are designed specifically for your home.
Spring is the perfect season for families looking to have new additions built for their home. If you are considering a new shed for the backyard or a new sunroom to sit back and relax in, companies like Southern Exposure Sunrooms and Tuff Shed are the ones you want to meet. They'll take the time to listen to all your home needs and figure out the best solution to what fits with your vision.
Roofing repairs and installations are just as equally important during this time of year. Meeting with a reliable company like Tarheel Builders Home Improvements are more than willing to help you deal with the damage from the weight of snow and freezing temperatures to your roof and shingling from the winter months. Moreover, the home expo will provide the perfect opportunity to talk with gutter companies like All American Gutter Protection about fixing or installing guttering systems that can help clear away leaves, branches, and twigs during spring months.
The North Carolina Spring Home Expo isn't limited to just homeowners! There are other home product and service companies as well, such as Superior Sleep, which displays luxury mattresses for your bedroom comfort. Cookware options are provided to help prepare your next best meal from companies like Cutco Cutlery. You can even test out life changing products and services like planning for your next family vacation with Diamond Resorts.
To learn more and check out a list of all the vendors exhibiting at the North Carolina Spring Home Expo, visit our website at NorthCarolinaHomeExpo.com for more information.
View All News