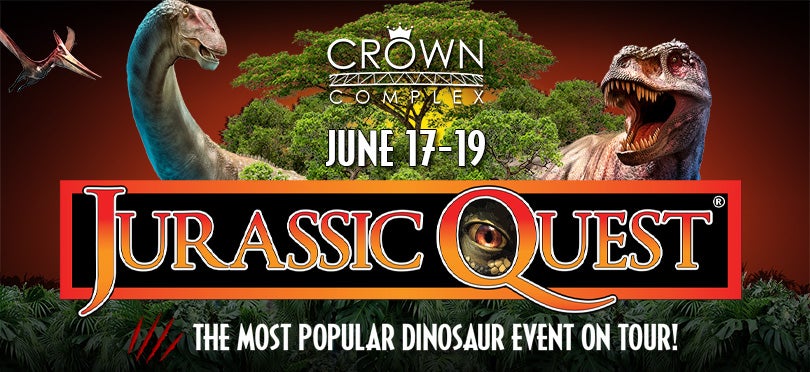 Mar 28, 2022
Jurassic Quest
ATTENTION Fayetteville dinosaur lovers! Come see for yourself why Jurassic Quest is America's biggest and most popular dinosaur event at the Crown Complex June 17 through June 19! Walk through the Cretaceous, Jurassic and Triassic periods, and "Deep Dive" into the "Ancient Oceans" exhibit with ancient ocean dwellers including the largest apex predator that ever existed – a moving, life-size, 50-foot-long Megalodon!
Tickets are on-sale now and can be purchased at the Crown Complex Box Office, Leisure Travel Services on Fort Bragg and CapeFearTix.com. Patrons will choose their preferred day and arrival time. The arrival time you choose is the time of entry into Jurassic Quest. Timed entry eliminates crowds and allows guests to enjoy their Quest in a safe and accessible environment. Jurassic Quest is self-guided. The average length of stay to enjoy all Jurassic Quest has to offer is 1 to 2 hours, depending on the popularity of your time slot. Sellouts are expected, so we encourage you to buy in advance to guarantee your timeslot.
About Jurassic Quest
Jurassic Quest is an immersive traveling dinosaur event that features an entire herd of life-size dinosaurs that move and roar! We set up the dinosaurs in scenes that reflect the habitat that paleontologists believe they lived in. Jurassic Quest is one of the first indoor family edutainment shows to re-launch since March 2020 due to the pandemic and is mounting its most beloved and unique experiences for the whole family including life-like dinosaurs, dinosaur themed rides, live dinosaur shows, interactive science and art activities, a "Triceratots" soft play area for our littlest explorers, bounce houses and inflatable attractions (socks required), photo opportunities, and more. New in 2022, guests are invited to join us on The Quest, an interactive adventure - pick up a Quest brochure when you enter Jurassic Quest and follow the ten clues to the "Quest Spot" signs with the matching number. Once you finish all the activities, collect a prize at the end- Quest Complete!
View All News