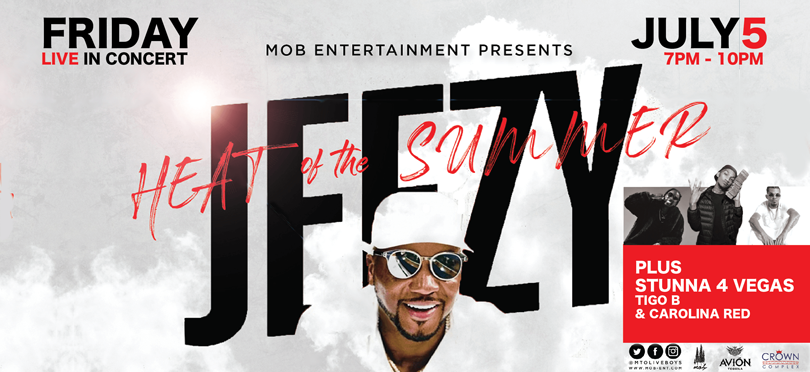 Jun 1, 2019
MOB Entertainment Presents: Heat of the Summer
Multi-platinum selling artist Jeezy will be at the Crown Arena on Friday, July 5 to headline the first ever Heat of the Summer event, brought to you by MOB Entertainment. Jeezy will be performing live along with supporting artists Stunna 4 Vegas, Tigo B, and Carolina Red.
Tickets are on sale now and can be purchased online at CapeFearTix.com, by phone at 888-257-6208, and in person at the Crown Complex Box Office & Leisure Travel Services located on Fort Bragg.
About MOB Entertainment
Mount Olive Boys Entertainment is a team comprised of four family members that grew up together in the small community of Mount Olive located in Columbus County, North Carolina.
Each member has gained valuable experiences, professionally and personally, that has allowed them to collectively come together to form MOB Entertainment.
Their sense of diversity allows them to explore all genres of music. As the founders of MOB Entertainment, they have successfully delivered headlining, upcoming, and local artists to audiences across the nation. Their entertainment sessions will last for hours, but the experience for all involved will last for a lifetime.
Stay current on their latest developments through digital platforms:
Website: www.mob-ent.com
Twitter, Facebook, & Instagram: @mtoliveboys
View All News