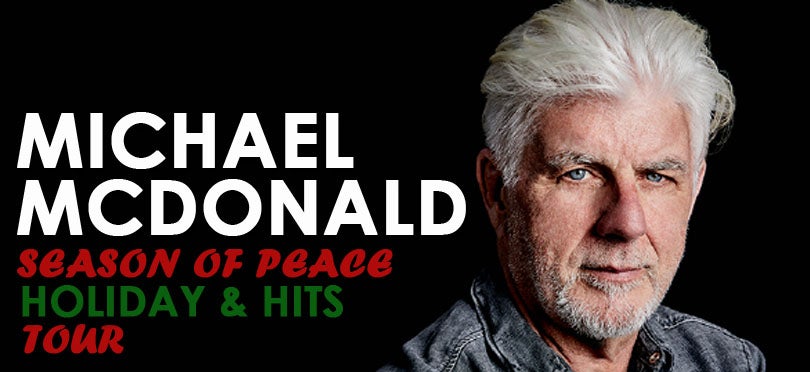 Jul 11, 2018
Michael McDonald to Play the Crown Theatre November 27
Fayetteville, NC (July 10, 2018) – Community Concerts' 83rd season will open with none other than Michael McDonald, as he looks to take the stage on Tuesday, November 27 at the Crown Theatre! This show is part of Michael's "Season of Peace, Holiday & Hits" tour.
"You're in for one of the best holiday and hits shows ever as we proudly present five-time Grammy winner, Michael McDonald" said Michael Fleishman, Attractions Director for Community Concerts. "And more stars are on the way!"
Tickets will go on sale at a later date and a full lineup for the Community Concerts' 83rd season will be announced in the coming months. Tickets will be available online at CapeFearTix.com, by phone at 888-257-6208, and in person at the Crown Complex Box Office & Leisure Travel Office located on Fort Bragg. For more information on Community Concerts and to purchase season tickets, please visit community-concerts.com or call 910-303-3996.
One of the world's most distinctive singing voices, Michael McDonald is often imitated but never duplicated (although Justin Timberlake has come close on "The Tonight Show" to comedic effect, as has actor John Viener on "Family Guy"). He's had enough humility over the years to freely blend that voice with others', whether as a member of Steely Dan, a Doobie Brother, as a highly successful solo artist and songwriter, a member of the supergroup the Dukes of September or, most recently, reaching the Coachella generation as a celebrated co-star on Thundercat's indie hit "Show You the Way." Fans who've wanted to hear that 50,000-watt clear channel of a voice all by itself have had to bide their time—not just minute by minute, but year by year—waiting for McDonald to reclaim a solo spotlight.
Enter Wide Open, McDonald's first new album in nine years, and his first set of all-original material since 2000. McDonald has nonetheless remained relevant through the early 21st century; he received his 13th Grammy nomination for Motown, a platinum-selling tribute to the greatest of all soul labels. He subsequently released a top 10-charting sequel, Motown Two along with a Christmas album, both of which certified as Gold Records. Following came Soul Speak, a collection of classic covers and a handful of original songs. But Wide Open finds him rediscovering his other voice—that is, his songwriting voice—in a big way, penning or co-writing 11 of the album's 12 tracks. It's a cogent reminder that he won Record and Song of the Year Grammys for co-writing as well as singing the Doobie Brothers hit "What a Fool
Believes." Wide Open marks a return to that classic's emotional urgency alongside fiercer and fresher band arrangements than he's ever created before.
In advance of a fall tour, McDonald will be premiering some of the new material on an episode of PBS' "Soundstage." Even before falling back into a solo touring cycle, McDonald has availed himself of other live opportunities, like participating in a traveling 40th anniversary tribute to The Band's The Last Waltz, making a surprise appearance with Thundercat at Coachella, or inviting Solange to sing with him at the Okeechobee Festival. He also recently recorded an Etta James cover for an album saluting Muscle Shoals' historic Fame Studios. But Wide Open is the project that finds the always-humble singer once again saluting an equally worthy muse: his own.
---
About Community Concerts
Community Concerts is a volunteer, non-profit arts organization working to make Fayetteville better, one concert at a time. Fayetteville's oldest non-profit arts organization, Community Concerts works diligently to bring Fayetteville the finest in world-class entertainment while keeping prices affordable to all. For more information and to purchase season tickets, please visit community-concerts.com or call 910-303-3996.
---
About Spectra
Spectra is an industry leader in hosting and entertainment, partnering with clients to create memorable experiences for millions of visitors every year. Spectra's unmatched blend of integrated services delivers incremental value for clients through several primary areas of expertise: Venue Management, Food Services & Hospitality, and Partnerships. Learn more at SpectraExperiences.com. Follow Spectra on Facebook, Instagram, Twitter and LinkedIn.
About Spectra Venue Management
Spectra's Venue Management division is the industry leader across a full range of services that impact the bottom-line success of public assembly venues, including marketing and sales, corporate partnerships, event booking, ticket services and box office management, customer service, operations and engineering and finance and administration.
View All News