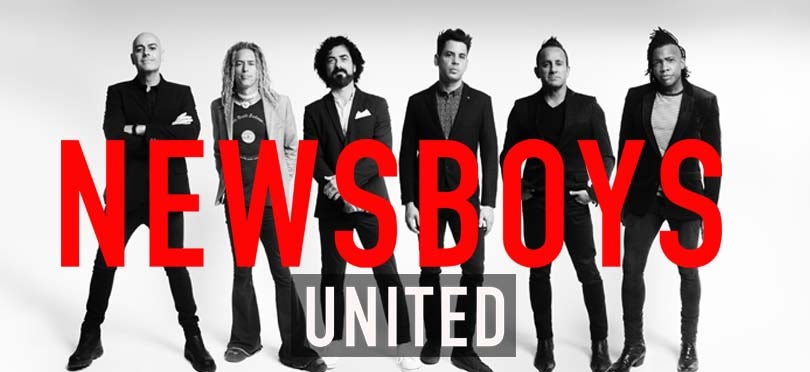 Jul 24, 2018
Newsboys United to Play Crown Complex
Newsboys United Tour is making history in 2018. Bringing all the hits under one roof from three decades of Newsboys music, this tour has been unlike any other and is sure to dazzle all those in attendance at the Crown Theatre on Thursday, October 18.
Tickets go on sale Monday, July 16 and can be purchased online at Capefeartix.com, by phone at 888-257-6208, or at the Crown Coliseum box office and the Leisure Travel Office located on Fort Bragg.
Showcasing "all the hits... under one roof... for one tour," the "Newsboys United Tour" is set to play a total of 100 shows in 2018.Comprised of current members Michael Tait, Duncan Phillips, Jeff Frankenstein and Jody Davis, along with former bandmates Peter Furler and Phil Joel, the mega-group spans the decades delivering hit after hit, from recent chart-toppers "God's Not Dead" and "We Believe" to such classics as "Shine" and "Entertaining Angels."
"We've been so encouraged and humbled at the response from Newsboys fans, not just in the cities we've visited but from people all over the world," said Newsboys' Jeff Frankenstein. "This is so much more than just a tour; it's a celebration of different eras, individuals and the songs that have brought us together."
Sponsored by ChildFund and produced by Premier Productions in partnership with the Newsboys, the fall leg of the "Newsboys United Tour" will once again feature special guest Word recording artist Zealand—founded and fronted by Phil Joel—as well as a special appearance by singer/songwriter Adam Agee.
One of the most influential bands in Christian music history, Newsboys have sold more than 8 million units and amassed eight Gold® certifications, 33 #1 radio hits, four GRAMMY® nominations, two American Music Award nominations and multiple Dove Awards. Comprised of Michael Tait (lead vocals), Jody Davis (guitar), Jeff Frankenstein (keys) and Duncan Phillips (drums), Newsboys' signature songs include "We Believe," "He Reigns," "Miracles," "Born Again" and their Platinum®-certified mega hit, "God's Not Dead." The latter inspired one of the most popular Christian film franchises of all time.
View All News