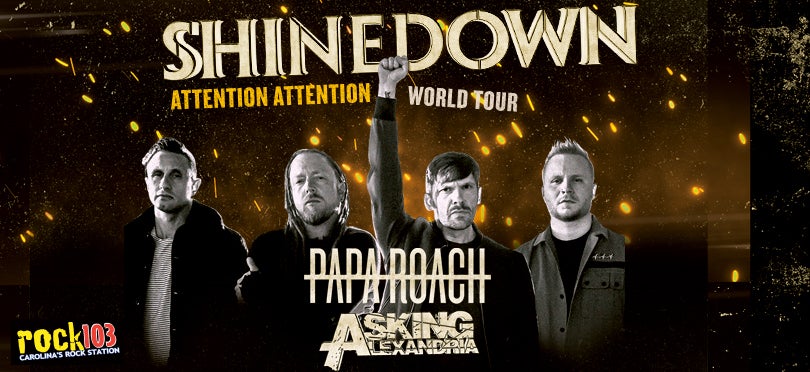 Oct 12, 2018
Shinedown to Play the Crown Coliseum on February 22, 2019
FOR IMMEDIATE RELEASE
Shinedown to play the Crown Coliseum on February 22, 2019
Fayetteville, NC (October 15, 2018) – Multi-platinum rock band Shinedown will play the Crown Coliseum on Friday, February 22, 2019 with feature support from Papa Roach and Asking Alexandria as part of its 2019 ATTENTION ATTENTION World Tour.
Tickets go on sale Friday, October 19 at 10 a.m. and can be purchased online at CapeFearTix.com, by phone at 888-257-6208, and in person at the Crown Complex Box Office & Leisure Travel Services located on Fort Bragg.
ATTENTION ATTENTION (PRESS HERE to listen) simultaneously hit #1 on Billboard's Alternative, Top Rock and Hard Rock Albums Charts and debuted Top 5 on the Billboard 200 and #1 on iTunes. The story that unfolds as the album progresses is a poignant and enduring statement about humanity, touching on topics such as overcoming struggles, mental health, not being afraid to fail and the resolve of the human spirit as seen on tracks like the #1 Active Rock hit "DEVIL" (which became the band's 12th #1 on Billboard's Mainstream Rock Songs Chart - one step away from the record of most #1s in the history of the chart) and the anthemic "THE HUMAN RADIO". Given the deeply personal nature of the record, Shinedown went in-house for production for the first time ever, enlisting bassist Eric Bass to produce and mix the album in its entirety.
Shinedown is currently on the road for their co-headlining U.S. tour with Godsmack – one of the biggest rock tours of the summer – before heading overseas for a headline UK/Europe tour set to kick off October 29th. Many of these shows are already sold out so be sure to grab tickets now! For ticketing info, please visit www.shinedown.com.
---
ABOUT SHINEDOWN
Leading the charge for 21st century rock, multi-platinum, record-breaking band Shinedown - Brent Smith [vocals], Zach Myers [guitar], Eric Bass [bass, production], and Barry Kerch [drums] – has sold more than 10 million albums and 10 million singles worldwide, has 11 platinum and gold singles and four platinum and gold albums, 13 #1 active rock hits, and averages more than 4 million monthly listeners on Spotify as one of the most-listened-to rock bands on the platform with over 600 million streams, contributing to their more than 1 billion total overall streams to date. Every single released throughout the band's career has hit Top 10 on the rock charts – an unparalleled feat.
ABOUT FPC LIVE
FPC Live (Frank Productions) is a full-service concert promotion company involved in every facet of live events including production, logistics, ticketing, marketing, sponsorships, food and beverage, operations, and merchandising. FPC Live produces and promotes live entertainment events in arenas, amphitheaters, performing arts centers, clubs, and other venues across the country. For additional information, visit www.FPC-Live.com.
ABOUT NATIONAL SHOWS 2
National Shows 2 (NS2) is a Nashville-based, full-service concert promotion company. NS2 creates, produces and promotes live entertainment events in arenas, amphitheaters, performing arts centers, clubs and other venues across the country. For additional information, visit nationalshows2.com.
About Spectra
Spectra is an industry leader in hosting and entertainment, partnering with clients to create memorable experiences for millions of visitors every year. Spectra's unmatched blend of integrated services delivers incremental value for clients through several primary areas of expertise: Venue Management, Food Services & Hospitality, and Partnerships. Learn more at SpectraExperiences.com. Follow Spectra on Facebook, Instagram, Twitter and LinkedIn.
About Spectra Venue Management
Spectra's Venue Management division is the industry leader across a full range of services that impact the bottom-line success of public assembly venues, including marketing and sales, corporate partnerships, event booking, ticket services and box office management, customer service, operations and engineering and finance and administration.
###
Shinedown press contacts:
Press Here
Carla Senft / carla@pressherepublicity.com
Atlantic Records
Glenn Fukushima / glenn.fukushima@atlanticrecords.com
FPC Live/National Shows 2/Live Nation press contacts:
Emily Bender / emilybender@livenation.com
Monique Sowinski / MoniqueSowinski@livenation.com
Venue Contact:
Lauren McDermott
Crown Complex
Lauren_McDermott@comcastspectacor.com
910-438-4117
View All News