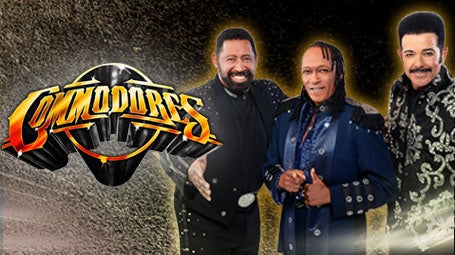 Feb 5, 2018
The Commodores to play Crown Theatre on April 14
Fayetteville, NC (February 5, 2018) – The iconic group, The Commodores, will play the Crown Theatre for one soulful performance on Saturday, April 14 at 7:30pm. They will be joined by special guest Landau Eugene Murphy Jr.
Tickets will go on sale Friday, February 9 at 10am. Tickets will be available at CapeFearTix.com, 888-257-6208, and in person at the Crown Complex Box Office & Leisure Travel Office located on Fort Bragg. Groups of 10 or more can save on tickets by calling Alan Singer at 910-438-4111.
For three decades, the Commodores have remained a force in the music industry. The Commodores aren't just any group. They have staying power. In 1968 the group was formed while all the members were in college at Tuskeegee University. After being discovered by Berry Gordy, the Commodores went on to sell over 60 million records for Motown. With hits like "Machine Gun" and "Sail On," the Commodores became proven artists. They proved it then. They proved it in 1986 with "Nightshift," and now they are ready to prove it again.
About Landau Eugene Murphy Jr.
Landau Eugene Murphy Jr. is the soul and Sinatra-singing season six winner of NBC TV's "America's Got Talent." The former car washer's Columbia Records debut album produced by Grammy winner Steve Tyrell spent six weeks at #1 on the Billboard Jazz chart. Landau's follow-up holiday CD "Christmas Made For Two" raised thousands for the Children's Home Society of West Virginia and received nationwide airplay including Sirius/XM's "Holly" channel.
# # #
About Community Concerts
Community Concerts is a volunteer, non-profit arts organization working to make Fayetteville better, one concert at a time. Fayetteville's oldest non-profit arts organization, Community Concerts works diligently to bring Fayetteville the finest in world-class entertainment while keeping prices affordable to all. Now in its 82nd season, this year's remaining lineup includes The Illusionists. For more information visit community-concerts.com.
About Spectra
Spectra by Comcast Spectacor is an industry leader in hosting and entertainment, partnering with clients to create memorable experiences for millions of visitors every year. Spectra's unmatched blend of integrated services delivers incremental value for clients through several primary areas of expertise: Venue Management, Food Services & Hospitality, and Partnerships. Learn more at SpectraExperiences.com.
About Comcast Spectacor
Comcast Spectacor is part of Comcast Corporation, a global media and technology company that operates Comcast Cable and NBCUniversal. Comcast Spectacor's three core businesses are the National Hockey League's Philadelphia Flyers, the Wells Fargo Center Complex, and Spectra, a hosting and entertainment firm specializing in Venue Management, Food Services & Hospitality, and Partnerships. Learn more at ComcastSpectacor.com.
Venue Contact:
Daniel Marsh
Crown Complex
Daniel_Marsh@comcastspectacor.com
910-438-4121
View All News